Our people
Sławomir Walasek - senior specialist for sales distribution
Who delivers De Heus products to the breeder? On what conditions? Sławomir Walasek, who has been working at De Heus for five years, can tell you all about it. He currently works as a senior specialist for sales distribution, working with our business partner dealers. As a company, we produce products through our dealers, who have stationary and mobile feed stores, to distribute them on the market. By doing this, we build a strong De Heus brand on the market.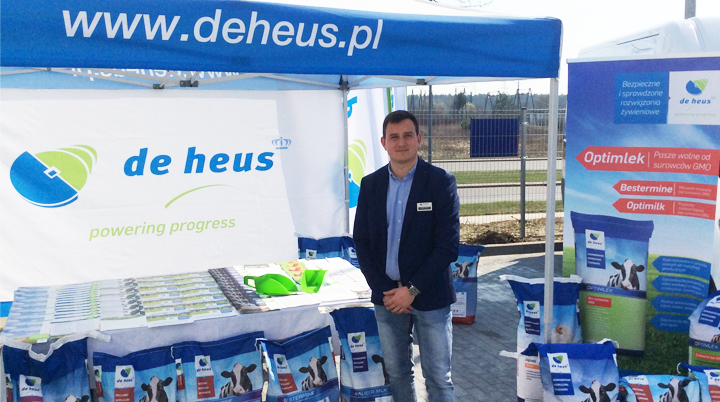 Relaxed atmosphere
After spending several years working as a sales specialist in the automotive industry, a relocation situation forced Sławomir to change jobs. Before going to university, he graduated from a technical college in gardening. Feeling a connection with the company, he took the risk of sending his CV to De Heus. He was invited for an interview and De Heus made a great impression on him. Sławomir: "I saw a lovely office building, friendly people, a relaxed atmosphere during the job interview and a view of machinery and a factory which was at least the size of an eight-storey skyscraper! To me it was impressive. I had not come across De Heus before, but I definitely felt it was a company with an established position on the market. I knew my decision after the first interview, so I all I could do was wait to hear whether I met the requirements for the position I was applying for. And I did!"
Cooperation with dealers
Because the farm market in Poland is very fragmented (medium-sized farm structure), De Heus products are distributed by dealers. Cooperation with dealers is based on the continuous development of the De Heus brand in the market where the dealer works. "My role is to agree trade terms with dealers, implement new product concepts, train dealer employees both in terms of products and trade and organise joint events and trade fairs for breeders. Every day, together with our advisers and dealers, we look for effective solutions for developing the sale of products for each group of animals. Ultimately, our aim is to become a sales leader in each of these sales groups together with the dealer," says Sławomir.
Share experiences and ideas
Sławomir: "I am delighted that I can work at De Heus under the supervision of experienced managers. Thanks to the opportunities offered by De Heus to share experiences and ideas with colleagues from various departments of our company, we can find ways to work more efficiently. Take the Young De Heus programme, for example, in which I participate. Another fulfilling aspect of my work at De Heus is the organisation of CSR projects aimed at the local community by building the De Heus brand in the spot market."
Join our team!
We offer as many career opportunities as different destinations to work in. For a possible match in your workfield check our vacancies.