Restore biodiversity - A story of hope and action between the Black Jaguar Foundation and farmers
In the global conversation about moving towards more sustainable food production, farmers in Brazil are being pushed to the margins. Ben Valks, initiator of the Black Jaguar Foundation, wants to change the narrative. "Environment and farming can go together. In our mission to restore biodiversity, Brazilian farmers are the heroes."
Nowhere in the world are the challenges of the growing world population as visible as in Brazil today. In the past decades, increasing deforestation enabled agriculture, cattle ranching, logging, mining and urban expansion. Activities which led to Brazil's significant contribution to global food security and an increase in the national GDP. But this land use change Sustainable Supply Chain is having detrimental effects on people, nature and planet. "Effects that we have already seen happening in other parts of the world, such as climate imbalance, soil erosion, loss of biodiversity and natural habitats, and declining quality of life for local communities."
When world leaders talk about preserving the tropical rainforests in Brazil, their primary focus is on carbon storage and biodiversity. For local farmers and Brazilians, there's something else at stake, says Ben Valks. "The water is disappearing."
Setting up a foundation
After his return, Valks approached a team of Brazilian scientists who had worked on the development of the 'Araguaia Biodiversity Corridor' - a strip of land along the banks of the 2,600 km Araguaia River that connects intact nature between the Amazon rainforest and Cerrado Savana, "serving as a life artery for thousands of tree and animal species living in these two ecosystems."
Valks realised that he could use his experience in international business to create a flywheel for the restoration of all the degraded areas in the Corridor Zone. "All within one generation." Together with a dedicated team of professionals, he would take on one of the largest reforestation projects ever to restore biodiversity and create positive economic and social impact.
Together with his team, he developed a long-term strategy for the ecological restoration of the riverbanks, looked for international sponsors for funding, and brought together technical partners and a local team to carry out the reforestation. "I never met the Black Jaguar but decided to name our organisation in its honour, as a symbol for what is at stake."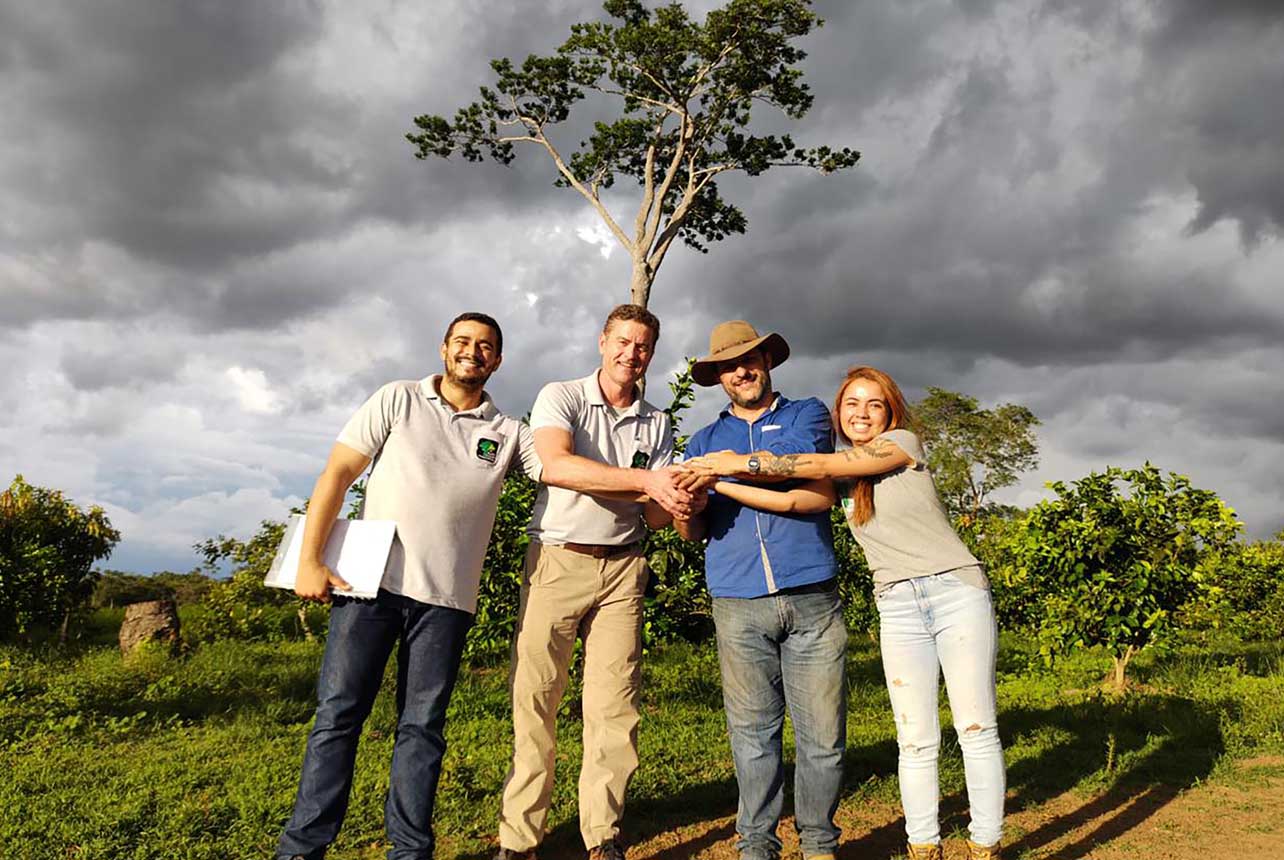 Ecological restoration
The Amazon rainforest is nearing its tipping point for destruction with almost 20% destroyed. In Europe and North America, practically all the forests are replanted. Brazil is one of the only countries in the world that has its nature protected by law. Facts that should give the international community food for thought, Valks thinks. "Since 1965, Brazil's Forest Code requires landowners to protect all areas near water sources and reserve between 20 and 80 percent of their land for native vegetation and its restoration. How amazing is that? Legislation in Brazil is incredibly complex and constantly changing. The Forest Code, however, has always stayed in place."
This is where the Black Jaguar Foundation comes in. "Restoring land to its native vegetation is both expensive and very complex. And with the increasing global demand for both animal proteins and soy, farmers' compliance with the Forest Code is under pressure. We made it our mission to offer technical and financial support to convert part of their farmland to its original state and comply with legislation. Together with the farmers, we believe we can make the difference."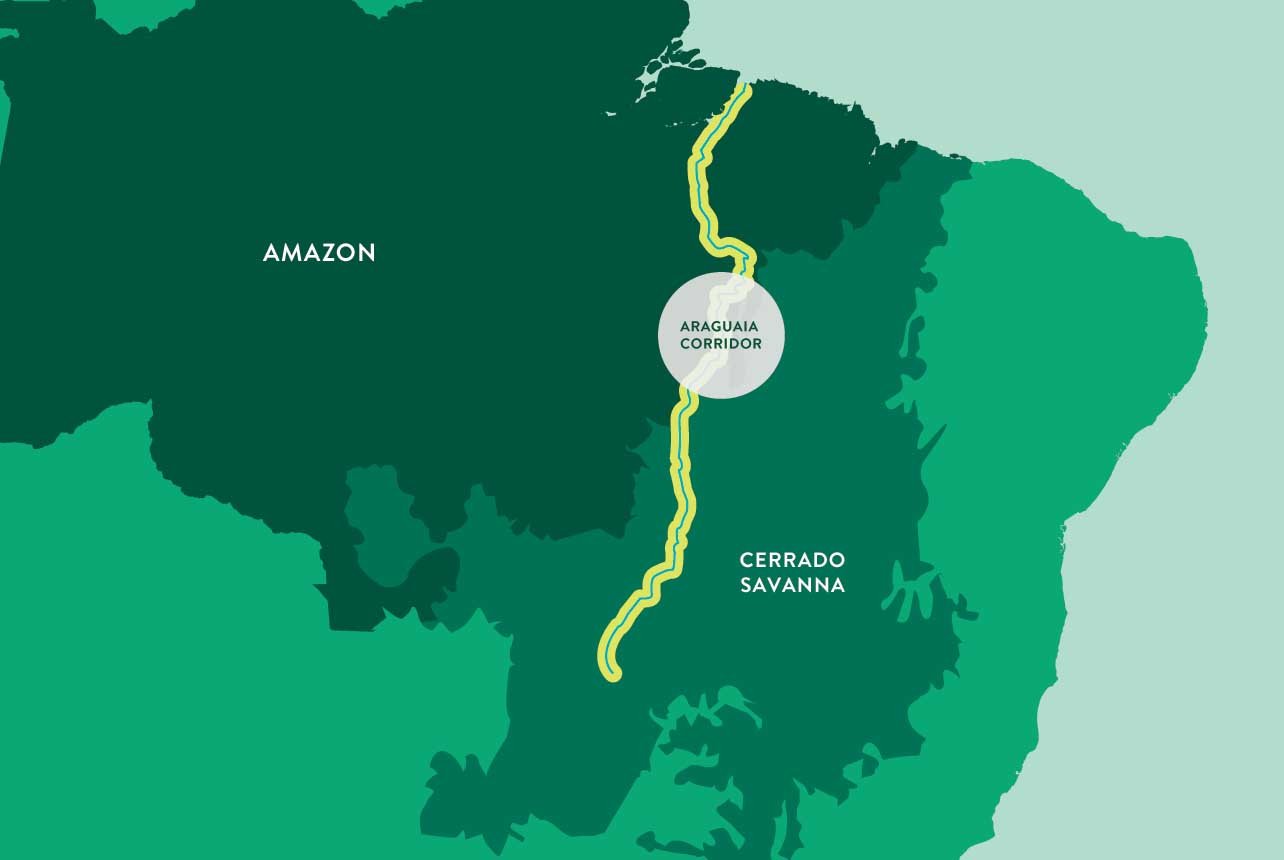 Long-term partnership
The biggest part of De Heus' initial contribution will be used to build a large-scale tree nursery in Santana do Araguaia, where approximately 500,000 new trees will be grown each year before they can be replanted on one of the reforestation sites. Part of the contribution will be used to set up the foundation's seed collection initiative – which will train people from local communities to help collect seeds from native trees – and the training and equipping of the fire brigade in Santana do Araguaia to help fight and prevent forest fires. Starting in 2022, our contribution will be used to cover part of the operational upkeep of the nursery and the planting of hundreds of thousands of native trees in the Araguaia Biodiversity Corridor in the coming years.
NGO and farmer working side by side
Getting the first group of farmers on board wasn't that easy. "People outside Brazil hold them responsible for destroying the Amazon rainforest. I can't blame them for not welcoming a foreigner like me with open arms." A pivotal moment was an interview for the National Geographic in 2018. Valks invited one of the first farmers who joined the project to share his perspective on the situation in the Amazon. "We wanted to show the world that farmers are key actors in restoring Brazil's biodiversity, in fact heroes. Not Ben Valks or the Black Jaguar Foundation. Things started to shift after that. Farmers in Brazil have now started to realise that we do deliver what we promise and see us as their long-term partners."
Working with farmers, the Black Jaguar Foundation takes responsibility for the implementation of the reforestation of the entire Corridor Zone. Together with the World Resources Institute Brazil, the first step in 2018 was to map out the entire area (10.4 million hectares), identify all its landowners (over 13,000 farmers) and their land use, and determine which parts of the Corridor Zone needed to be ecologically restored. "We expect to restore over 1 million hectares by planting more than 1.7 billion native trees. It will be one of the largest reforestation projects in Brazil!"
"We started the ecological restoration in the middle of the corridor, the transition zone of the Amazon and Cerrado where landowners need to reserve 35 percent of their property for nature. "Many farmers have already recovered up to 30 percent. We help them comply with the last 5 percent." Our local forest engineers research the best native tree restoration techniques and work on identifying which species of native trees belong in which part of the Cerrado. Together with landowners, they work on reforestation plans tailored to their bit of land and incorporate sustainable models of forestry and agroforestry.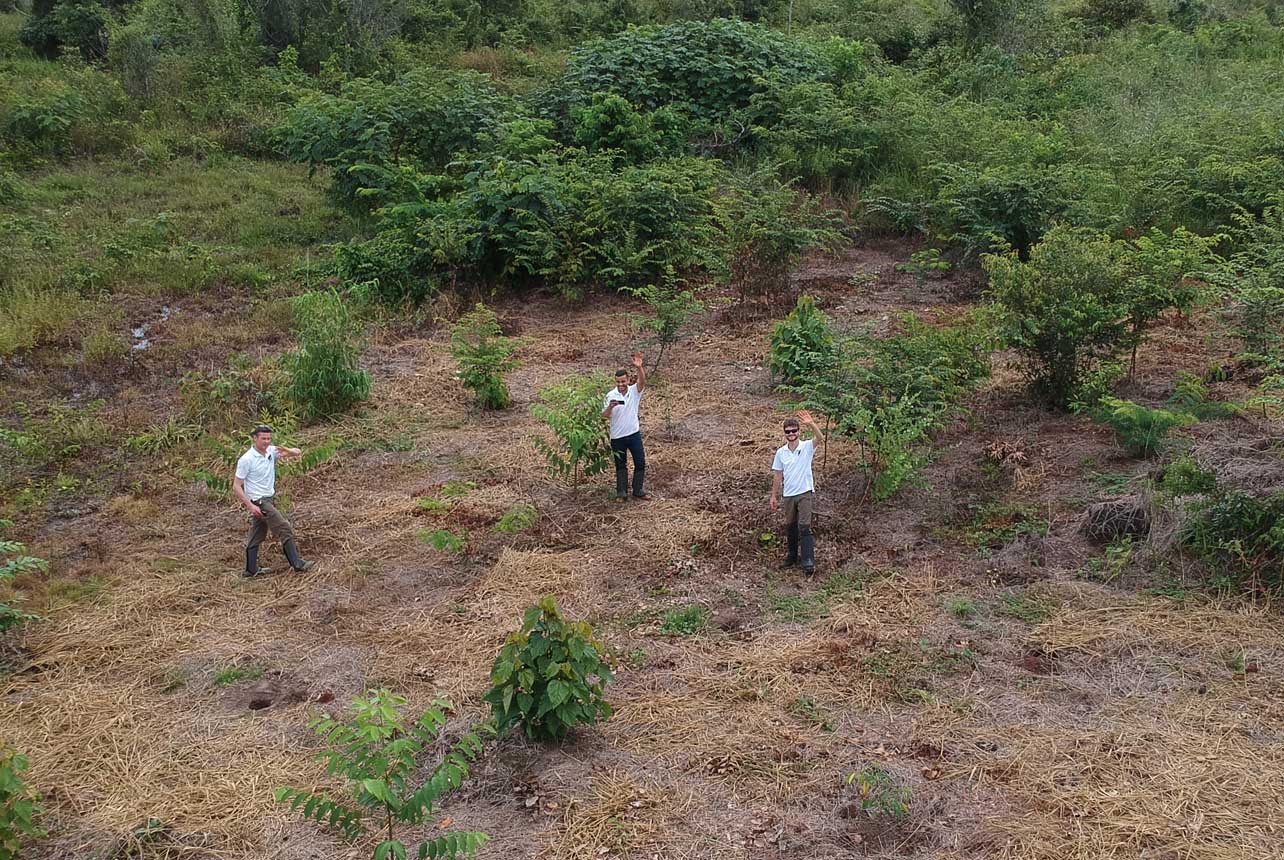 Shared values
While most of his Brazilian colleagues work on site, Valks and his team are also working on funding. An absolute precondition for every new sponsorship is shared values and meeting the Foundation's mission statement. "One mismatch is detrimental to our credibility." Which is why Valks looks for partners, rather than just sponsors. "Individuals and organisations that help preserve our environment for future generations."
In 2020, he came into contact with Rinus Donkers from De Heus Brazil, who was interested in becoming an official sponsor partner. Because one of the issues linked to the livestock feed industry is land use change for raw material production, Valks was hesitant at first. "But I soon learned that De Heus shares the same values as the Black Jaguar Foundation. They drive sustainable development, take action to preserve the planet for future generations, keep their promises and are committed to adding value to local communities."
Win-win-win
And just like the Black Jaguar Foundation, De Heus works together with farmers on sustainable food production and restoring biodiversity. "The global demand for food continues to grow. Suggesting we don't need land to farm would be unrealistic. But farmers must produce our food more efficiently on the same area of land or less. De Heus helps them achieve this by offering them better feed and technical knowledge. We can help their customers in Brazil restore their land to its original state."
In August 2021, Co and Koen de Heus decided to extend the original sponsorship with De Heus Brazil to long-term support from De Heus Global – not only in the planting of trees but the entire mission of the Black Jaguar Foundation. Valks wants the world to know that the environment and farming can go together. "This partnership can play an important role in achieving this."
Partnership Black Jaguar Foundation
Koen de Heus, CEO of De Heus Animal Nutrition: "Providing access to safe, healthy and especially affordable food is one of the biggest challenges the world faces today. At the same time, we need to reduce the impact our food production systems have on vulnerable ecosystems. To achieve both goals, we need to produce food more efficiently to prevent excessive land use change in the near future. We can only achieve that when we treat farmers as our allies when tackling these challenges. That's what we like about the Black Jaguar Foundation. They work together with farmers on the realisation of the Araguaia Biodiversity Corridor"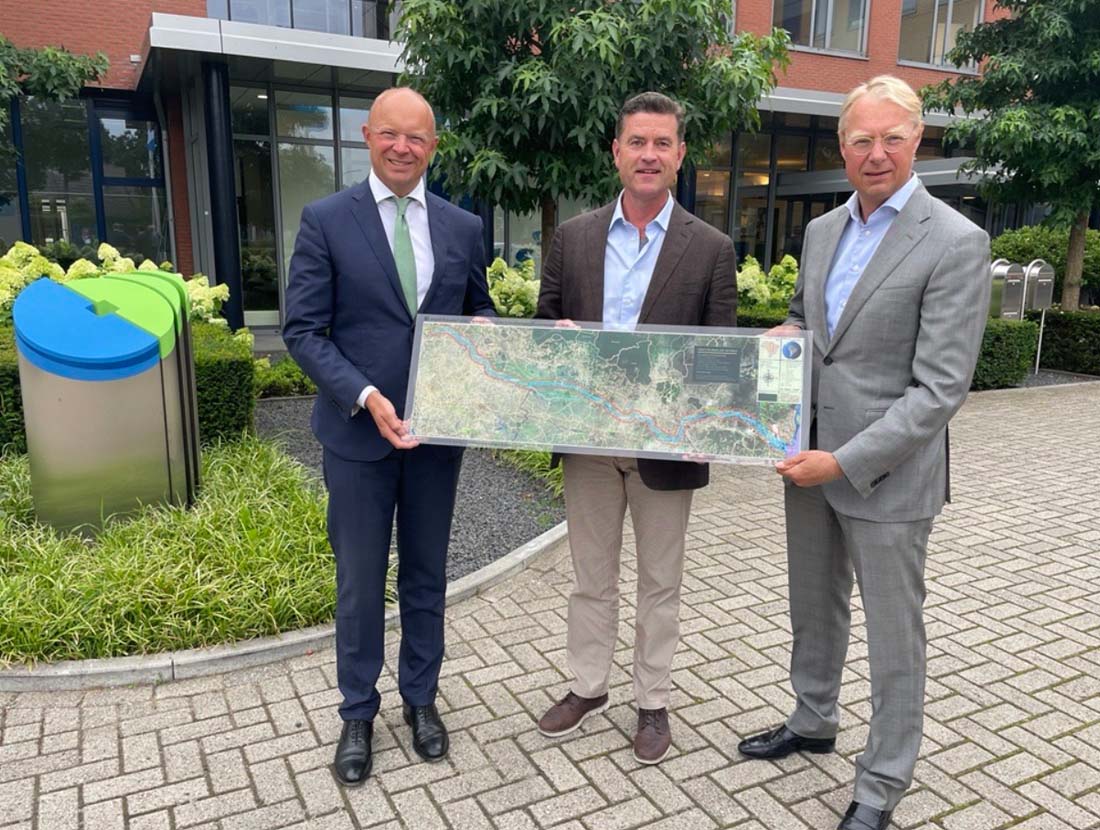 Discover more about the partnership
FEED. Magazine
In this magazine, we share a selection of stories about progress and sustainability from De Heus business units all over the world. We hope that these stories will inspire you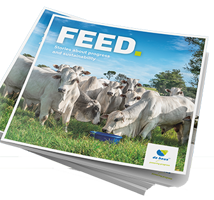 Our Responsible Feeding approach in practise