Our people
Francisco Manuel Rubio Menéndez – Sales Distribution Manager at De Heus Spain
On this occasion, we invite you to delve into the personality and the intense professional career of Francisco Rubio (or Paco, as everybody knows him), sales distribution manager of De Heus Spain. Someone as restless as he is, with a great interest in communication and contact with people, as he himself points out, seemed destined to dedicate his working life to sales, in all its dimensions.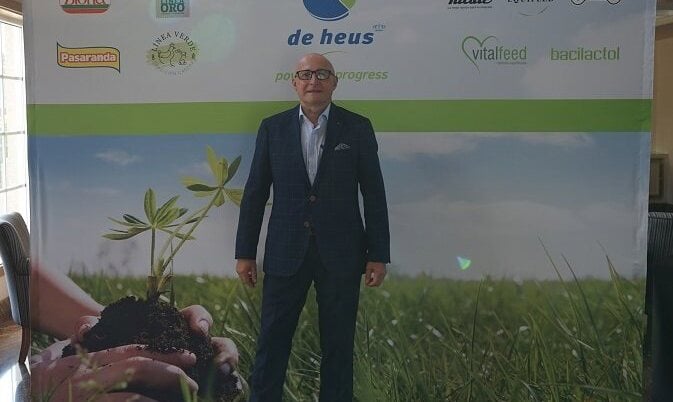 Cattle as a speciality
A trained veterinarian, Rubio began his professional career in 1988 working for the Xunta de Galicia in an animal sanitation campaign in the province of Lugo. Two years later, in 1990, he began his career in Saprogal-Piensos Biona, a company that is now part of the De Heus family, as a prescriber responsible for the technical service in Asturias. An "enriching experience" in his own words, as it allowed him to train in what would become his great speciality: cattle. In fact, in 1994, he was promoted to beef product manager for Spain, moving to A Coruña. This period, which he remembers as "a great professional challenge", marked his entry into the world of marketing and communication.
Curiosity and non-conformity to continue growing
"As one must be non-conformist, in the year 2000 I had the opportunity to get to know the world of animal nutrition from a different perspective", says Rubio. That curiosity led him to change companies and join Premix España, where he ended up as sales manager. He then received a call from Grupo Leche Pascual to develop a Pascual Aranda project that was "very attractive in the north of Spain". Due to the success achieved, and before the merger in 2007 of Pascual de Aranda and Saprogal, giving rise to Nuter Feed, he was appointed expansion director with the aim of facilitating the integration, boosting sales at national level and establishing a common commercial policy.
And then came De Heus
At Nuter Feed he also served as director of Eastern Galicia and Asturias and Cantabria, with the role of increasing sales and reorganising the sales team: success in both cases, of course.
Then came 2015 and De Heus acquired Nuter Feed. Paco first took over the regional management of northern Spain and, in 2019, became the company's commercial director in our country.
"Throughout my career I have learned a lot from all my colleagues and from the different business projects, but I would like to make a special mention to De Heus, as it has given me a more strategic, long-term, supportive and international vision of the compound feed business," he says gratefully.
Rubio envisages that, once his professional career is over, he will take life in a more relaxed way, with time for those hobbies that he has not been able to enjoy as much as he would have liked: reading, hiking, going to see Sporting Gijón at the Molinón (Spanish football team) and enjoying his children.