Developing digital coaching for Poultry farmers in Africa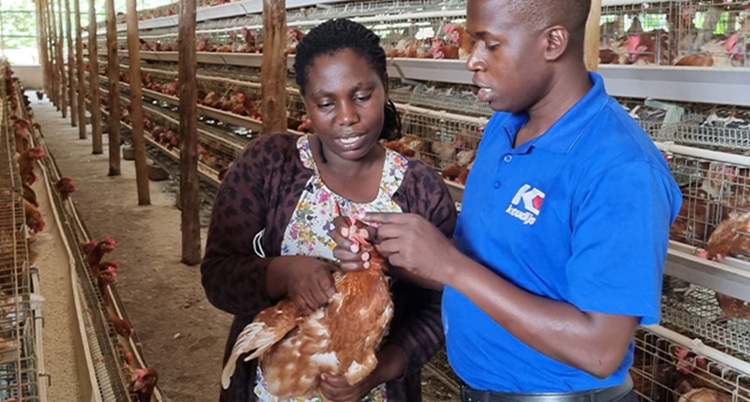 "We know how to help farmers manage their animals so they achieve the best results," says Johan. "But we're not on the farm on a daily basis." Since many farmers in Africa have little agricultural training, feed price is quite often the only metric they focus on. As a result, they may not be realising the full potential of their flocks. Giving them hands-on guidance and coaching can be of great value. "In poultry farming, small factors like temperature and ventilation can have a big impact," explains Johan."So we started to think abouw how we could help farmers monitor performance and advise them on the main critical points so they get great results."
Johan realised that a digital solution was the answer and turned to Martijn to help develop and implement it. "Doing business on a mobile phone is part of everyday life in Africa," says Martijn. "It's perceived as a trusted advisor so that's where we need to be." An online app would not only provide farmers with vital technical knowledge, it would also ensure that users receive up-to-date, unadulterated information. In addition, it would allow De Heus to develop personal relationships with a large number of customers. With this aim in mind, the project team developed Poultry Coach.
Direct access to De Heus knowledge
This easy-to-use, content-rich app gives farmers continuous, direct access to De Heus' global knowledge about poultry farming. Combining flock data entered by the farmer with De Heus' best practices, the app coaches them on daily tasks related to feed, mixing, housing and more. It also gives them insights into their financial performance, helping them to make better decisions. They can even ask questions via the app that are directed to technical support. "With some agricultural apps, you have to input a lot of data without getting much in return," says Martijn. "Poultry Coach is different. We spent a lot of time aligning the app with farmers' needs and making it as intuitive as possible. It's a making it as intuitive as possible. It's a customer-first solution that helps make farmers more successful. "Poultry Coach will be launched initially under the Koudijs brand, which is the label most familiar to farmers in Uganda.
Improving farmers' results
Although the main purpose of the app is to support farmers, it also provides De Heus with useful information that allows the company to refine its offerings. "The app gives us data on how our feed is performing, what kind of revenues farmers are generating and what their biggest challenges are," explains Johan. "We can address these challenges in the app and help farmers improve their technical results even more."
The app is also a valuable asset for dealers. "Dealers face the same problems as De Heus in terms of convincing customers of the benefits of our products," says Johan. "Farmers aren't afraid to spend more if they know they will make money. Poultry Coach is designed to demonstrate the potential profits and support optimal feed usage."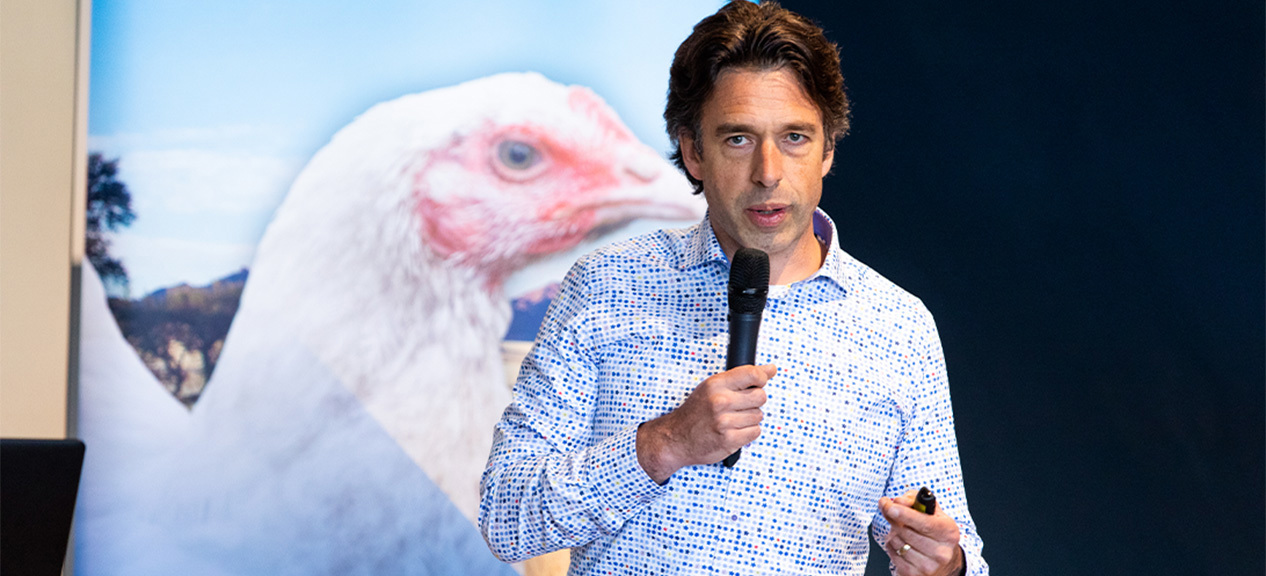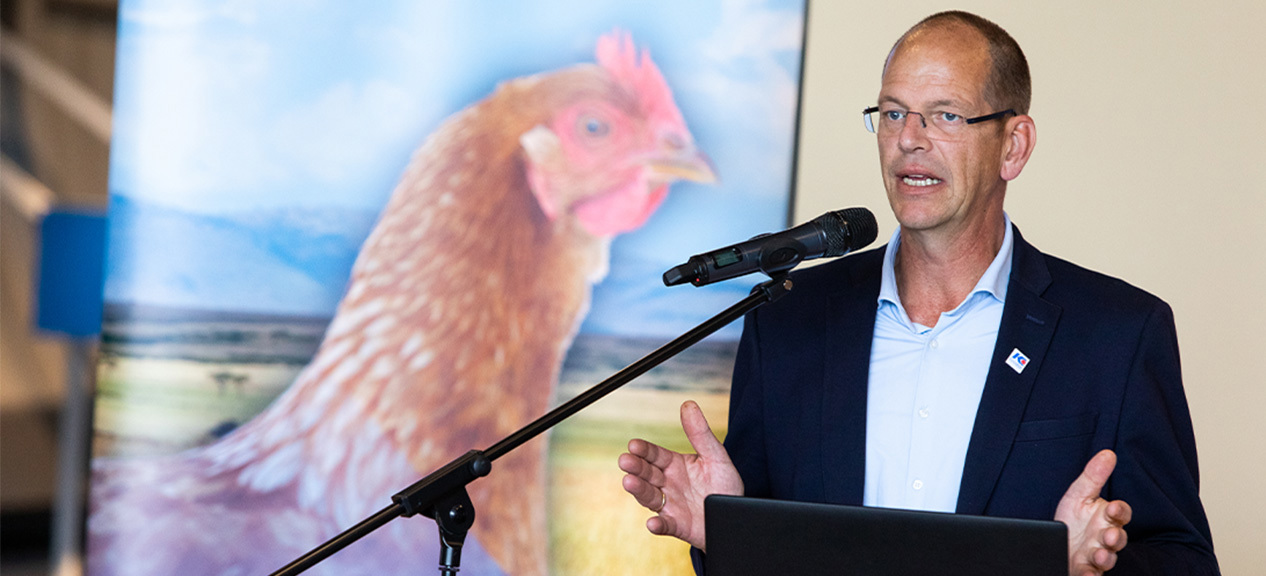 Customer-driven development
This focus on customer needs guides the project team in every stage of the app's development. "When developing a digital tool, sometimes there's a tendency to try to do everything at once," says Martijn. "But with Poultry Coach, we looked at where we could make the biggest difference for farmers." That's why the project team is developing the app in an incremental way. The app is being trialled with a small group of farmers in Uganda and their feedback drives further development of the app. "Based on input from farmers, we scale up functionality and the number of users," explains Martijn. "This agile way of working is completely new for De Heus and demonstrates our commitment to innovation."
Multidisciplinary team
To ensure that Poultry Coach delivers a real difference for customers, the project team had to work closely together. "I know what's needed to develop an app but I need the technical knowledge about poultry farming to make it effective," says Martijn. Poultry farmers in Uganda have very specific challenges, so the project team needed to know what had to be built in order to help them. "Martijn asked a lot of basic questions about poultry farming so the app would meet customer needs," explains Johan. "Our sales team in Uganda also gave feedback on how the app was being received." Since the app is used by farmers with varying levels of training, it's key that De Heus' technical support specialists not only have expert knowledge of poultry farming, they can also explain information in straightforward terms. "This sort of committed team is critical to success," says Martijn.
Discover how you can benefit from our premix approach?
We add value to your production process and offer professional advice regarding the feeding management of your animals.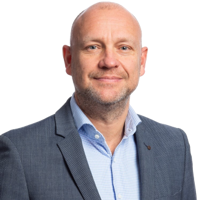 Generating more revenue for farmers
Given the incremental approach to Poultry Coach's development, the app will be updated and expanded over time. "It's a question of continuous improvement," says Johan. "We had a workshop with the trial farmers and we asked them what business challenges they're facing. There's a big wish list." To address this list, the project team prioritises the most pressing issues. "Development is driven by what's limiting farmers from generating more revenue," says Johan. But although the project team can widely extend both the app's content and functionality, the aim isn't to create an all-purpose tool. "It's a well-developed app and there's nothing like it on the market," says Martijn. "But it mustn't become too complicated." What about data security and privacy issues? "The app complies with all local laws and regulations," says Martijn. "Only autorised people have access to data."
Developing regional markets
Once the app has been successfully launched in Uganda, Johan and Martijn plan to roll it out to other countries. "Poultry Coach is designed for poultry farmers who are serious about professionalising their operations, whether they're in Africa, Asia or South America, whether they have 500 chickens or 50,000," explains Johan. Even non-customers can use the app. "We support farmers," he says. "We believe that if farmers improve, the whole country will benefit and the market will develop."
Premix Talks
This magazines provides a great overview of the efforts to design and produce premixes that deliver great-quality animal feed for healthy and productive animals. Enjoy reading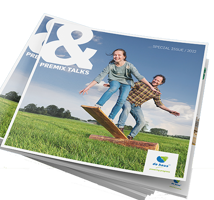 Stories about Premixes & more