De Heus Inaugurates the first De Heus Premix Factory in Asia
November 9th, at Song May Industrial Park, Trang Bom District, Dong Nai; De Heus organized the Inauguration Ceremony of De Heus Premix Factory, with a capacity of 60,000 tons. This is the first Premix Factory of De Heus in Asia.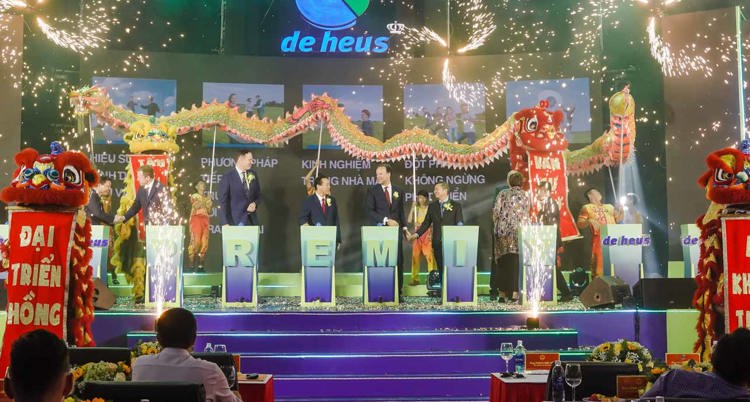 Attending the Inauguration Ceremony were Mr. Phung Duc Tien - Deputy Minister of the Ministry of Agriculture and Rural Development; Mr. Daniel Stork – Consulate General of the Kingdom of the Netherlands in Ho Chi Minh City; the Dutch Agricultural Counselor in Vietnam; As well as representatives from departments under the Ministry of Agriculture and Rural Development; and Leaders of Dong Nai province
Speaking at the Inauguration Ceremony, Mr. Gabor Fluit – CEO De Heus Asia was pleased to share that De Heus has several Premix factories in Europe, but this is the first one in Vietnam and Asia.
Gabor Fluit shared: "After the acquisition of Masan's animal feed business, De Heus's total sales volume of feed in Vietnam doubled. Along with the continuous development of De Heus in Cambodia, Myanmar, Indonesia, India, the demand for high quality premixes to produce the best quality animal feeds is increasing accordingly."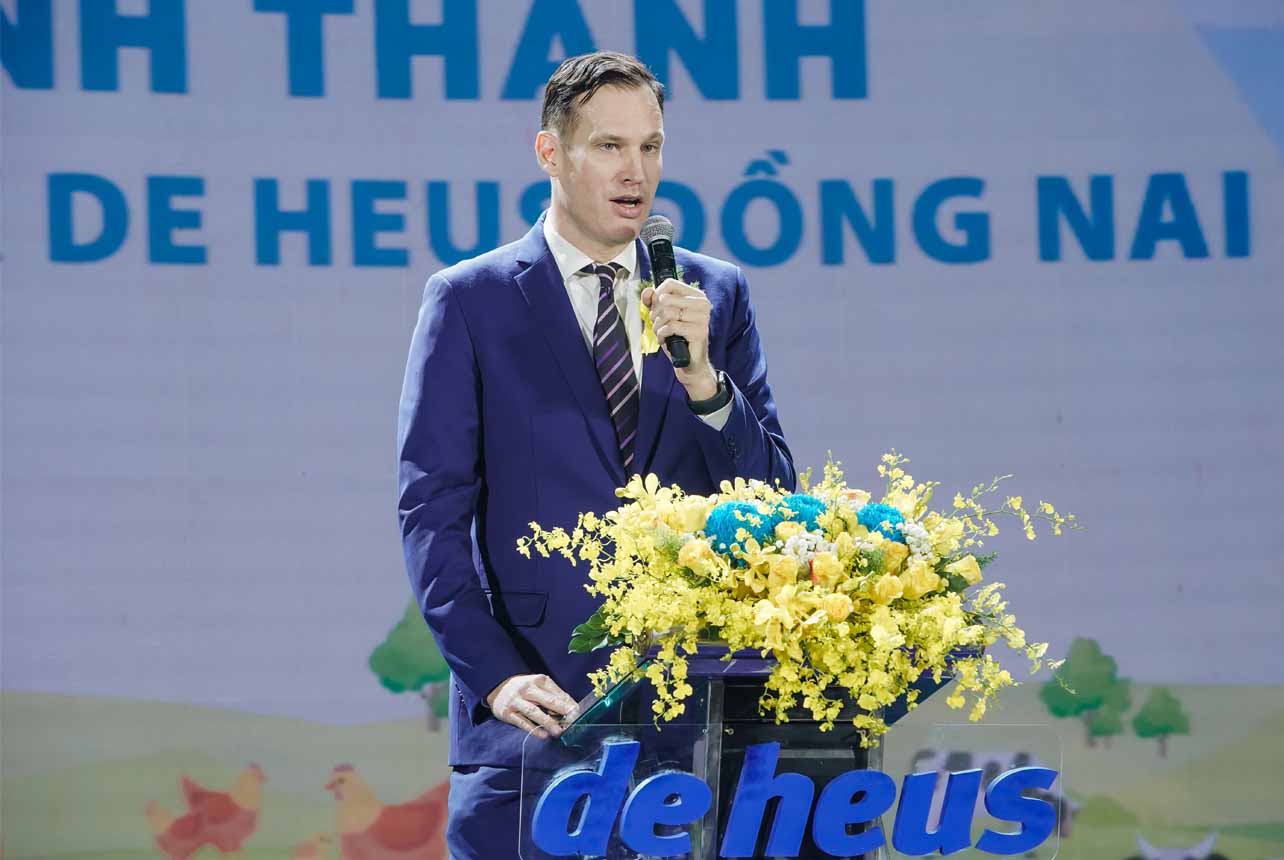 "Premix is by volume a relatively small part of an animal feed formulation. However, it plays an important role in the whole agriculture chain. Therefore, De Heus decided to invest in a new factory in Vietnam to ensure product quality and a steady, reliable supply. Helping farmers to reduce costs, increase production efficiency, and therefore their competitiveness in the market."
Gabor Fluit also mentioned that although participating later than others in the premix segment, De Heus' goal in the coming years is to become a leading player in the field of Premix in Asia.
Speaking at the Inauguration ceremony, Mr. Phung Duc Tien - Deputy Minister of the Ministry of Agriculture and Rural Development, said: "The growth of husbandry industry has always been at a high level, averaging 5-6% per year, as a result of an important contribution from the businesses that are active in this sector. In which, the total value of investment in husbandry is currently about 3.2 billion USD. To achieve the goal of restructuring the industry and successfully implementing the governments husbandry development strategy, we need the role of leading enterprises in the industry, such as De Heus."
"The inauguration of De Heus 's Premix Factory will contribute to the supply of key nutritional ingredients towards the animal husbandry sector, ensuring quality for farmers in Dong Nai as well as neighboring provinces. "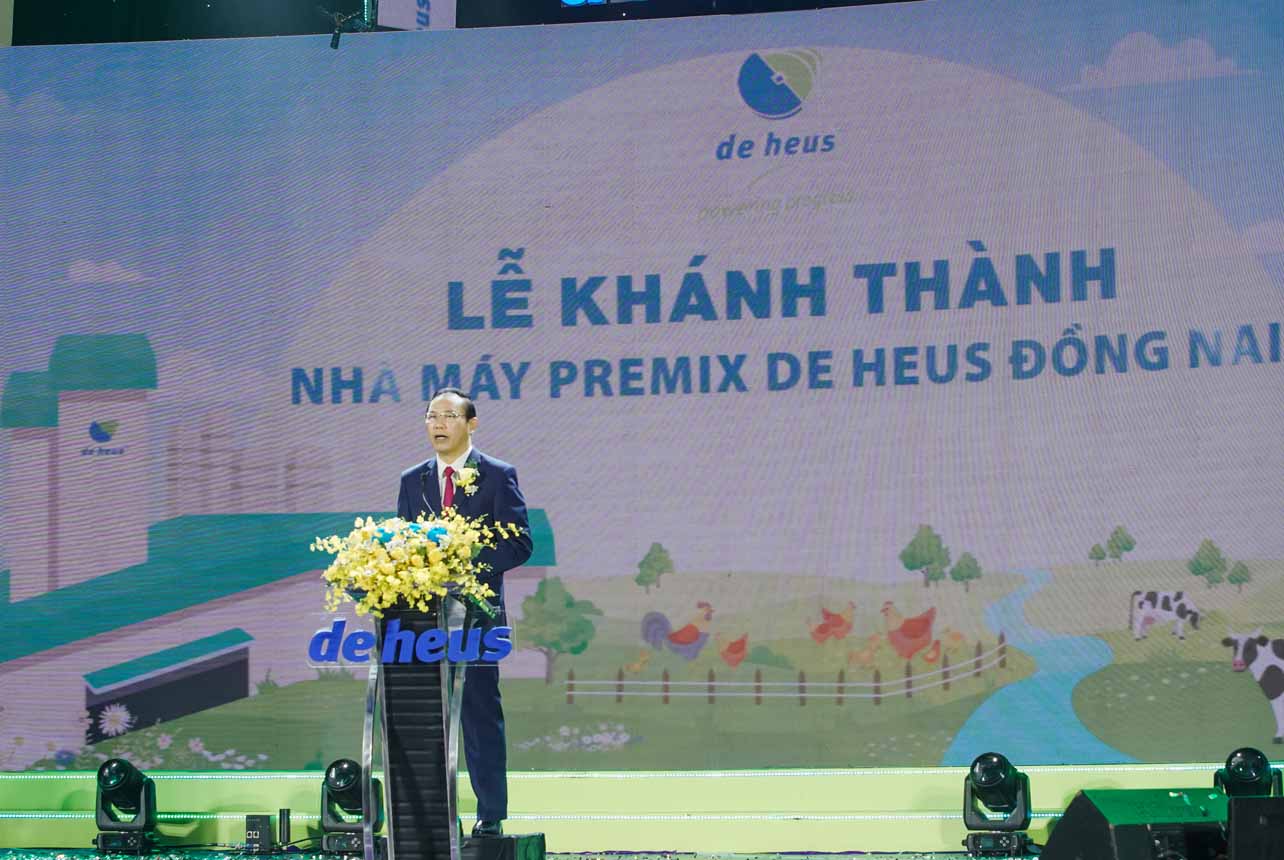 He also expressed his expectation on De Heus to continue taking that pioneering role in the agricultural value chain, linking production with raw material areas, according to a closed process, to provide feed products are strictly controlled in terms of quality and especially at reasonable prices for all manufacturers, farmers and consumers.
Attending the inauguration ceremony, Mr. Daniel Stork - Consulate General of the Netherlands in Ho Chi Minh City said: "As the second largest agricultural exporter in the world, it's an honor for Netherlands to share our experiences with Vietnam. Next year, we will celebrate the 50th anniversary of the establishment of diplomatic relations between Vietnam and the Netherlands, and we are very proud that De Heus is one of the leading Dutch enterprises that has made important contributions towards the development of Vietnam's agricultural sector."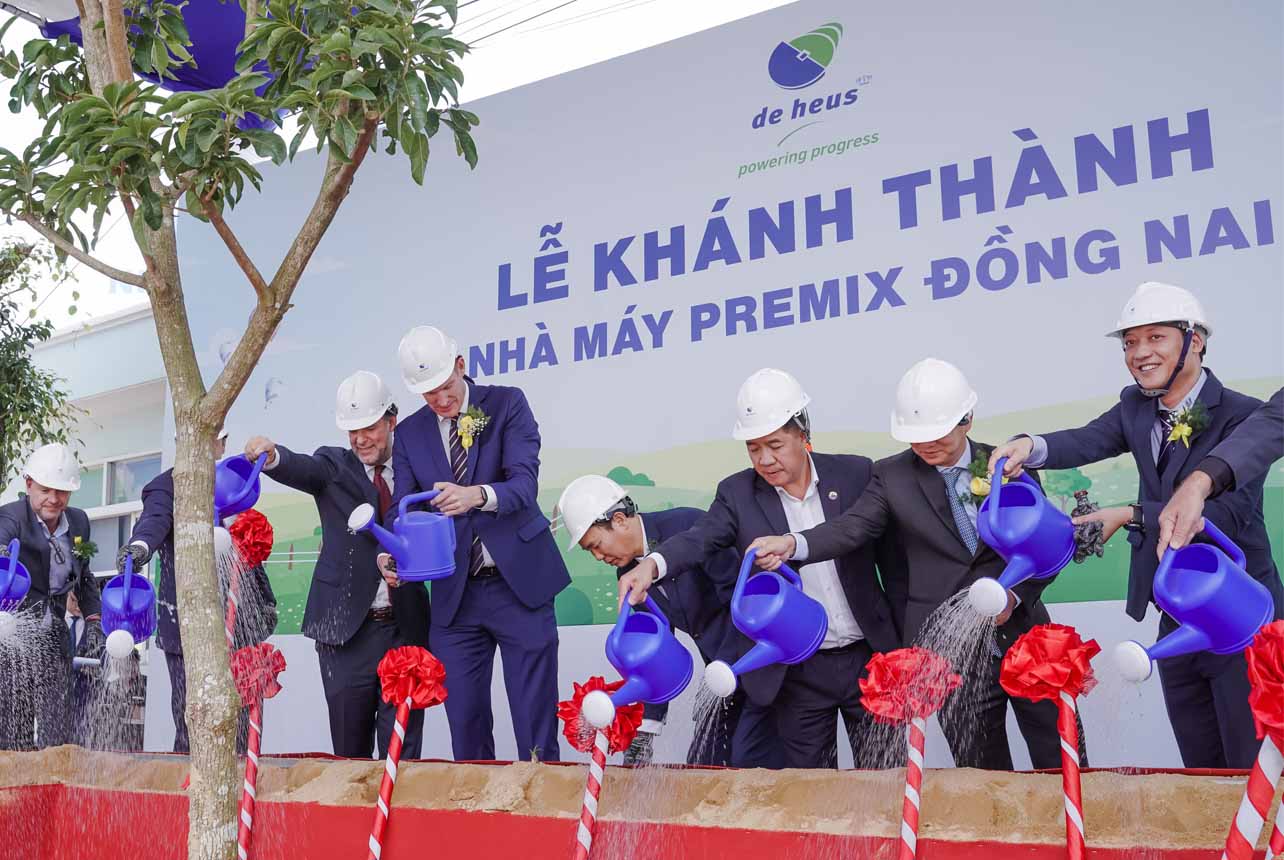 Also at the ceremony, Mr. Cao Tien Sy - Director of Dong Nai Department of Agriculture and Rural Development, shared: In the recent times, the husbandry industry in Dong Nai has grown tremendously, with 90% of production coming from large farms. Therefore, Dong Nai is not only a key husbandry area of the country but also a very potential market for animal feed.
Since 2012, De Heus Group has invested in Dong Nai with its first greenfield animal feed factory with an investment value of 15 million USD. Along with this inauguration of the Premix factory, De Heus not only makes practical contributions to the local husbandry industry, but also creates many jobs for the local community. The inauguration was concluded with a traditional tree planting ceremony.
Discover our stories about premix