Support of social objectives
Our participation in unique projects probably appeals most to the imagination when it comes to our social involvement. In the regions we operate in, these projects make valuable contributions to the well-being of the local population. Examples of such projects include: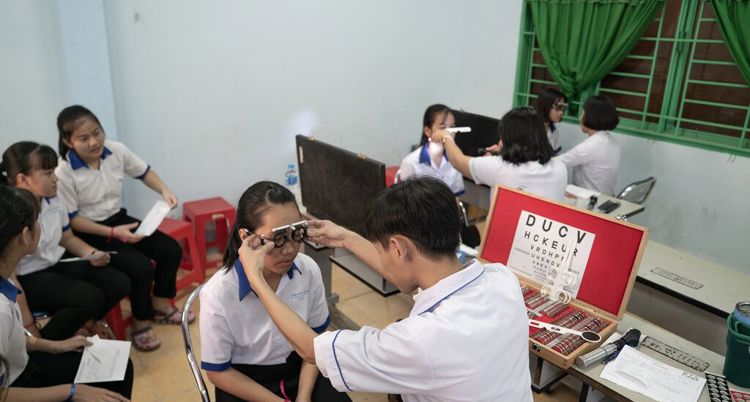 Powering progress with eye care in Vietnam
Upon the opening of our 7th plant in Vietnam, on 15 April 2016, we entered into a 10-year sponsorship agreement with the Eye Care Foundation. This foundation helps to cure and prevent visual impairments in developing countries. For example by performing simple cataract operations and providing high-quality glasses. These measures will improve the vision of 80% of the people suffering from eye disorders. Which is of course important for them in order to be able to help build a better future for themselves, their relatives and the local community. Together with the Eye Care Foundation, we started up the project Powering Progress With Eye Care. This project focuses on the cure and prevention of eye disorders in Vinh Long. This city is located in the heart of the Mekong Delta, where our 7th plant is located as well. In this region, around 1 million children and 1.5 million adults are dealing with a visual impairment. In 2018 we started a more or less simulair Eye Care project in Myanmar.
MoSagri Tree of Life plantations in Mozambique
In the second quarter of 2016, we became co-owners of MoSagri, an organisation that has been active in various locations across Mozambique since 2011. MoSagri develops and exploits different Moringa plantations. The Moringa tree is also called the Tree of Life. Its leaves as well as its fruit have a high nutritional value and also have medicinal properties. They are rich in vitamins, minerals, amino acids, antioxidants, and anti-inflammatory agents, for instance. Thanks to these properties, the Moringa tree may be able to make an important contribution to food safety and the fight against malnutrition. Together with the other shareholders in MoSagri, we intend to stimulate and further develop agriculture in Mozambique. At the same time, we want to add new, healthy products to the food and feed industries. And we support local farmers with indepth knowledge and experience.
Supporting local projects
De Heus sponsors social activities in the vicinity of its production locations in an appropriate manner. The projects we focus on must have a certain connection with our company, our livestock farming customers, or the particular agricultural sector in which we operate.
More initiatives we take to make a valuable contribution to local society