Supporting a nation on the road to self-sufficiency
In his 3 years working as export manager at Koudijs, Mark Hop had seen the needs of his customers and the market in Ivory Coast change more and more. Another thing he'd noticed was the government's shift in focus to self-sufficiency in animal proteins. That meant tremendous opportunities for people engaged in agriculture. "Especially for livestock farmers to grow their businesses and for arable farmers to produce raw materials for feed production."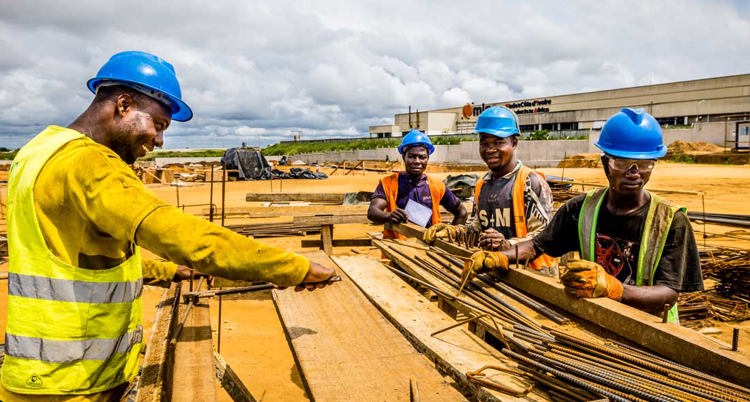 This time over a decade ago marked a pivotal moment in Ivory Coast's recent history. Up until 2011, the West African country had been dealing with years of political turmoil that had led to economic uncertainty. Once called one of Africa's most prosperous countries, it had suffered severe damage – to its people and the economy.
In its strategy for economic recovery, the government identified agriculture as a sector which could play a significant role in achieving sustained economic growth. It included objectives to become less dependent on import, increase people's living standards, and improve the availability of affordable animal proteins. Ivory Coast has a longstanding reputation as being the world's largest cocoa producer and is self-sufficient in cassava, yam and banana. However, it still depends on imports for animal protein and feed, which come with import duties and taxes – adding up to feed prices, and effectively the market price for meat.
In early 2020, Mark Hop and his manager Wim Bolder put their heads together. "For our customers to increase their productionnumbers and contribute to local access to safe, nutritious and affordable animal protein, they needed to have feed that was affordable and of premium quality," he says. "We decided we needed to bring the production of feed to Ivory Coast."
Starting a business unit 101
"Our market opportunities were evident," Hop says looking back. "By switching from exporting concentrates to local production of high-quality feed, we could meet the needs of our customers and the market in Ivory Coast and contribute to value creation at local level." To get a clear overview of the market situation and potential risks, he consulted Dutch stakeholders in the Netherlands and Ivory Coast. "The Dutch embassy and Ministry of Trade provided us with valuable information, as did other businesses that were already based in Ivory Coast, such as Heineken and FrieslandCampina."
When Hop and Bolder presented their business case to Co and Koen de Heus, they soon obtained an approval. "And as I had worked out the business case, they asked me if I could carry it out as well." Before the year was over, he had landed the job of General Manager of De Heus' soon-to-be youngest business unit.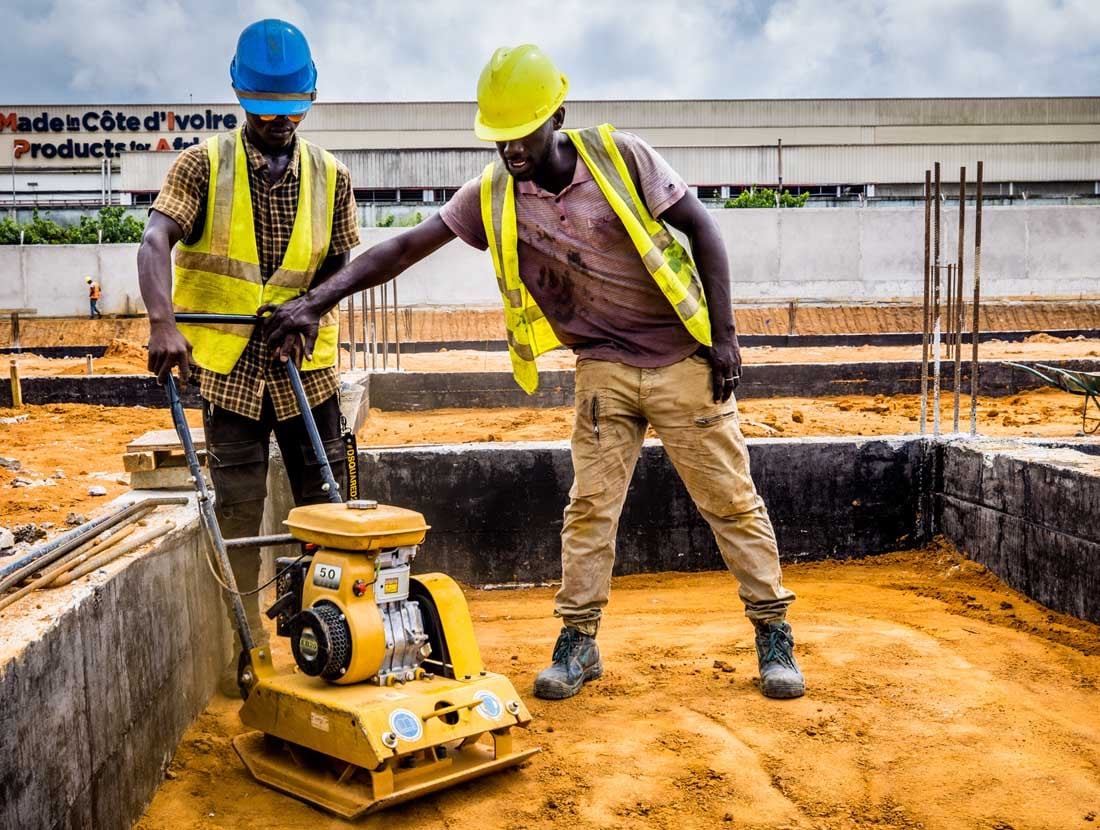 The value of local eyes and ears
The production location was to be built on a dedicated industrial zone just outside Abidjan, Ivory Coast's economic capital. When it was time to apply for investment financing and the construction permits necessary to start production, Hop realised he needed help from someone who knew how to navigate inside local government. He made a call to Koudijs' local accounting firm and asked whether they knew anyone fit for the job. As luck would have it, they did. Through his previous working experience in finance and auditing, Cédric Gnamba knew his way around the local business principles, laws and regulations. As the first manager and Abidjanian officially hired for the new business unit, "he was able to get the necessary signatures much faster than I could ever have done," Hop says. Gnamba smiles when he recalls the initial situation. "I knew which government representatives to talk to and the optimal process to follow within the local construction permit system. This helped us speed up the property registration process by saving at least two months."
The snowball effect of local employment
The factory will meet the highest quality standards that De Heus upholds everywhere in the world. "From the design to the production processes and machinery, we import the best available equipment and technology from Europe," says Hop. For the construction, a local contractor hired nearly 250 people who will be working on site. "Once the factory is up and running, I expect to welcome over 150 colleagues who will be working in the office and on site, filling important jobs as technicians, machine operators and QA managers. As our activities continue to expand, every direct job creates five indirect jobs, which will continue to help develop the local economy and improve people's livelihoods."
This is a huge opportunity for chain partners, who need to increase their efforts too. Through its Koudijs activities, De Heus created an extensive network of dealers that resell its feed solutions and visit farmers for on the farm support. "By increasing the local feed supply, we increase our customers' production and grow our customer base. This means the dealer network has opportunities to grow with us." De Heus currently has 80 sales outlets across Ivory Coast. Hop aims to double this number. "The bigger our network, the more farmers we can reach. We are currently developing a support programme to help our dealers grow."
With switching from import to local production, Hop is also looking backwards in the chain. "Within three years, the factory will reach full capacity. By 2025, our aim is to locally source 80,000 MT raw materials on a yearly basis," says Hop. "We have already started contracting 500 farmers, to whom we provide a guaranteed sales outlet at fair market prices." Hop has also made plans with other food businesses in Ivory Coast to use their side streams, giving valuable nutrients a second life. "Heineken will supply us with beer yeast, flour millers provide wheat bran, and fishmeal is supplied by processors of canned fish."
"By 2025, our aim is to locally source 80,000 MT raw materials on a yearly basis."
And Ivorian consumers? Gnamba has already crunched the numbers. "By providing local feed produced with local raw materials, we forego tax duties and can offer farmers premium feed at lower prices. This will hopefully carry through in the market price for meat, which means more Ivorians will have access to safe and nutritious animal protein."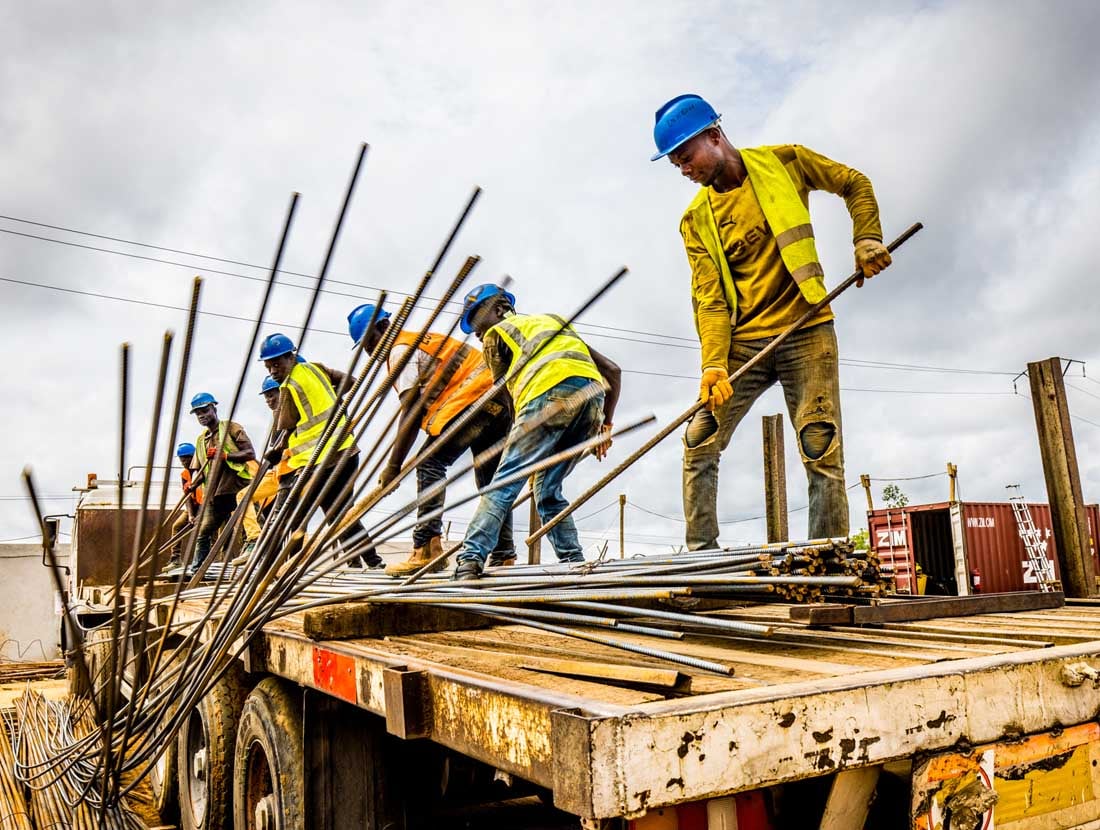 Synergy rooter in shared goals
In September 2021, the construction of the factory officially started. An important moment, not only for De Heus, but for Ivorian farmers, local and national governments, and even local competitors – all present at the ceremonial laying of the first stone. "They realise that if the whole market grows, their share grows too," Hop says. "As De Heus we don't want to shake up the established order but contribute to the market development that they started a decade ago."
Once the factory is in operation, Hop is onto his next plans to invest in the sustainable development of agriculture in Ivory Coast. Taking inspiration from other De Heus business units, he sees opportunities to invest up and down the value chain. By increasing farmers' access to quality day-old layers and day-old broilers, for example. "Day-old layers and hatching eggs are currently imported from Europe via air freight, which is very expensive. By investing in local production, their local availability will go up while the prices go down," he says. "Our local partners Allart de Winter and Beaujeannot Kengne from Poussin d'Or have already taken the first step investing in a hatchery that can produce 250,000 day-old broilers per week. The next logical step is to look at the local production of hatching eggs."
Setting up a programme
In a partnership with Rabobank, Cemoi and Yara, De Heus Ivory Coast is setting up a programme to help cocoa cooperatives shift their focus from mono harvesting to growing multiple crops. Every partner brings their own expertise to help them make the transition. As a chocolatier, Cemoi has a large cocoa farmer supplier base wanting to diversify its income. And as a supplier of fertilizer and seeds, Yara has the know-how on how to grow crops. Cocoa farmers' income is currently based on one harvest per year. By helping them diversify their crops, they can harvest multiple times a year, which means a steady stream of income. De Heus can ultimately buy the corn they grow from them for its local feed production.
FEED. Magazine
In this magazine, we share a selection of stories about progress and sustainability from De Heus business units all over the world. We hope that these stories will inspire you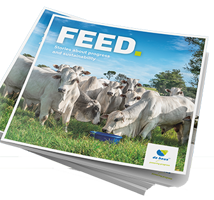 Our Responsible Feeding approach in practise