The Business Excellence Awards recognize De Heus as "The Best Animal Nutrition Company" in Spain
De Heus Nutrición Animal received last Wednesday the Business Excellence Award as The Best Animal Nutrition Company in Spain, during an event organized by the newspaper La Razón in Madrid. The company has emphasized that this recognition is the result of "great teamwork and a constant effort to contribute to innovation and sustainability in the livestock sector."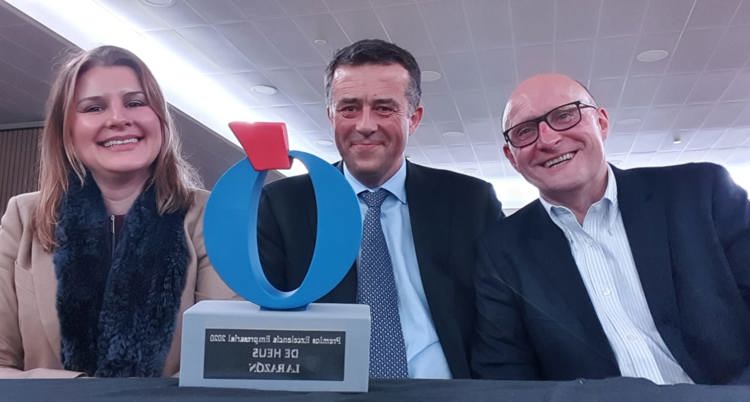 The director of the newspaper La Razón, Francisco Marhuenda, was in charge of presenting the award to the CEO of De Heus Iberia, Jean-François Honoré, in a ceremony that highlighted the company's commitment to responsible food, the quality of its products and their essential role in the proper functioning of the supply chain.
In his words of thanks, Jean-François Honoré wanted to highlight the effort and motivation of the entire team, as well as the trust placed in the company by its more than 4,300 direct customers, farmers and distributors. "The most rewarding thing about our day-to-day work is to see our clients grow and progress. This award represents an impulse that helps us to continue working for a viable, efficient and environmentally responsible primary sector".
Furthermore, the Iberia CEO highlighted that "to be distinguished as the Best Animal Nutrition Company after a year as challenging as the one we have just left behind, is a great recognition of our contribution so that food production has been maintained with quality and efficiency as always, even in the worst moments of the pandemic ".
Since it began its journey in Spain in 2015, De Heus Nutrición Animal has not wanted to limit itself to being a mere supplier of compound feed. "In addition to innovative and high-quality products, we want to make available to the farmer a wide range of services, nutritional solutions and technologies focused on ensuring the efficiency and viability of their businesses," said Honoré. "All of this always keeping in mind the environmental sustainability of the production, which is a clear demand of the society in which we live and in which we will continue to actively work," he added.