Koudijs Ukraine celebrates opening state-of-the-art premixes plant
An ultra-modern facility to produce high quality mineral and vitamin mixtures for animal feed was opened at the Koudijs Ukraine enterprise,  in the village of Khilchytsia, Zolochiv district, Lviv region. This new facility has a productivity of approximately 20.000 T pa.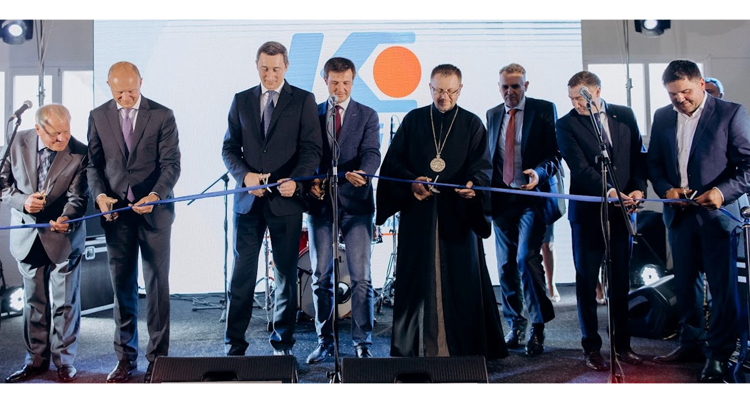 The plant is the result of joint investments by the De Heus Animal Nutrition and its Ukrainian Joint Venture partner - Shopsky F.I. A partnership which started in 2009 and continuously progresses to optimally support the Ukrainian agricultural market with its animal protein production. Investment in a high tech premixes plant situated in the Ukraine was the next logical step to optimally serve farmers and integrators to produce good quality, safe and affordable meat, dairy and eggs for home consumption as well as export destinations.
"We have automated our production processes and operate with utmost care for the environment. The technology prevents emissions to land, water and air". With confidence Fedir Shopsky, General Director Koudijs Ukraine took the opportunity to confirm that "Koudijs Ukraine is an innovative company that looks ahead, fully meets the needs of its customers and meets the requirements declared by the modern world."
Koen de Heus, CEO De Heus Animal Nutrition, expressed his delight to open this modern factory in the Ukraine as the first international animal feed company to do so. "I have great confidence that through delivery of products from this premix factory, in combination with the elaborate knowledge and services offered by our specialists, we do take the next step together to further build on the potential of the sizeable Ukrainian market"
During the ceremony the ribbon was cut by Mr Shopsky Fedir Ivanovych, Koen de Heus, the Ukrainian Minister of Development of Communities Mr Chernyshov Oleksiy Mykhailovych, the First Deputy Minister of Agrarian Policy and Food, Mr Vysotsky Taras Mykolayovych, next to Bishop Volodymyr Hrutsa, The Dutch Ambassador Mr Jennes de Mol plus the Head of Lviv Administration Mr Maksym Zinoviyovych Kozytskyi together with Mr Shopsky Ivan Fedorovych. The ceremony was followed by a tour where all guests were invited to visit the new facility.