Smid family takes on the challenge
In 1990, Jenneke and Hergen Smid got married. In 1996, they built their first free-range barn and in 2020 they are renovating the farm together with their sons to prepare it for the future. Jenneke: "We were ready for a new challenge ourselves, but we are delighted that we can do this with our children."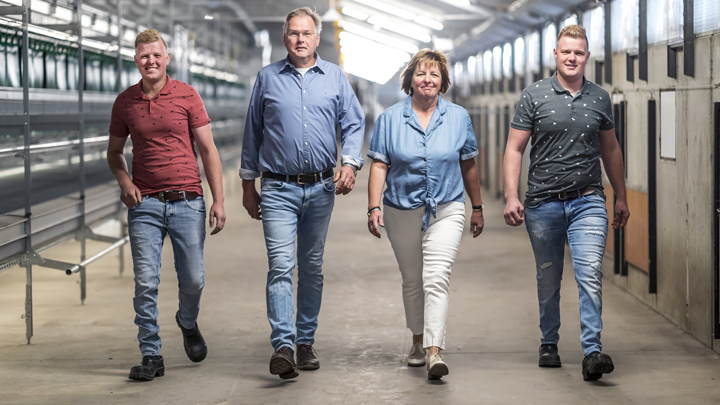 The farm is in the village of Heemserveen in the municipality of Hardenberg (The Netherlands). A big garden with fallow deer surrounds the farmhouse, with the four barns behind it. On the roadside, there is a building with an egg vending machine. "We sell our eggs there as well as products from a local dairy farm," Jenneke explains. "I like people coming here. It means we have a lot of social contacts. People enjoy being able to buy their eggs here. They also like seeing the chickens in the aviary." Jenneke feels that it is important to present the farm and its products to society in a positive way.


From traditional barns to the aviary system
There are four barns on the farm. Originally, these were traditional barns housing 83,000 hens. Two barns had already been modernised with an aviary. This year, the third was fitted with a Vencomatic aviary with Q Perch, a system that prevents infection from red mites. On the underside of the perches, there are electric barriers which kill the mites, preventing them from getting onto the hens. The current renovation means that the number of hens will rise to around 100,000. Interestingly, the new barn accommodates two systems: one half of the barn is a free-range system (1-star Better Life label). The hens in the other half have access to an outdoor area. The eggs of the latter group of hens have the 2-star Better Life label. The feeding system, water supply and climate system have all been replaced and modernised.
"One barn is still empty," says Jenneke. "We are currently amending our environmental permit so that we can renovate that one too. We will then have 120,000 hens, the maximum number allowed for the Better Life label." This label does involve higher costs, but it also ensures a higher sales price. The family expects that working in a renovated barn will benefit the cost price and therefore the profit margin. Jenneke: "You can calculate how it will affect prices in advance, but we will experience the reality in the coming years."
Twins on the farm
It has only become clear in the last few months that André and Dirk, Jenneke and Hergen's twin sons, will take over the farm together. They are 22. Three years ago, André told them that he was interested in coming into the business and went on a special study programme in Horst. He also worked on another farm. Later, his parents asked him to come and help them. Dirk became a truck driver but last winter told them that he would also like to join them. The family had long conversations, together and with advisers. Eventually it was decided that the brothers would take over the farm together. They both have a truck driver's licence and can earn extra money that way if necessary.
Gradual take-over
"The aim is to gradually hand over the farm to André and Dirk," says Jenneke. "I currently do the bookkeeping and my sons will take it over from me in due course. Now we all work together. In the future, however, André and Dirk will be responsible." Jenneke enjoys working on the farm and plans to continue working for a long time. "So long as I can play a useful role, I will do so. For 30 years, we have worked hard to build up a good business. And it's something we can be proud of. I'm glad that our children will be continuing it."