Our people
Emily Thuy – Business Development Manager Asia
One day you'll find Emily Thuy wearing her checked shirt, helmet and safety shoes checking construction progress on a project site. The next day, she'll be more formally dressed pitching a strategic proposal to the board of management. Or she might be sitting in a corner of the office researching market potential for future projects. "There's never a dull moment when you work in a professional and fast-growing company like De Heus in dynamic Asia."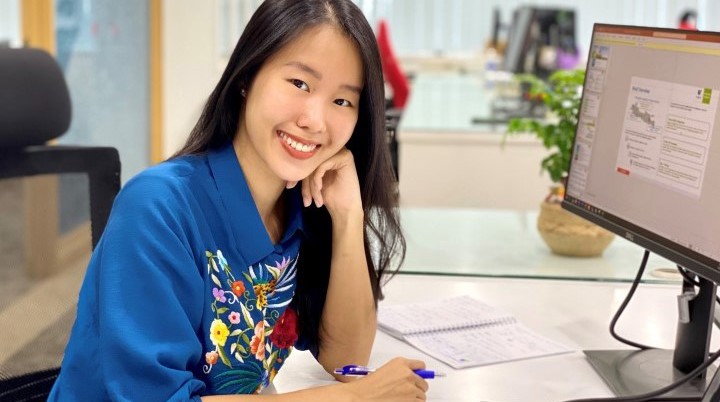 The "Master of Life" with De Heus
Emily joined De Heus as an intern in 2013 when she was in the final year of her BSc in International Business Administration at Erasmus University in the Netherlands. After graduating, she was offered the opportunity to return to De Heus Vietnam and work on several value chain development projects which she had supported during her internship. "It was challenging because I had no agricultural or farming background and no specific project management skills. However, thanks to the coaching and support of my managers, colleagues and project partners, I learned a lot very quickly and was soon up to speed," says Emily. Not many students in the Netherlands choose not continue with a Master's after their Bachelor's degree, so her manager often refers to her decision as pursuing a "Master of Life" at De Heus. "Looking at the magnitude of my scope of work, I think it is more than what a Master can offer," Emily laughs.
The Integration of De Heus and Neovia Indonesia
Since 2020, Emily has focused on supporting M&A and Strategy projects run by De Heus in Asia. In June 2020, De Heus strengthened its position in Indonesia with the acquisition of Neovia Indonesia. Here Emily provided support as an Integration Management Office Lead to organise and facilitate pre- and post-closing activities. This was a special project which took place during the COVID-19 pandemic, involving the integration of two compound feedmills in East and West Java into De Heus Indonesia. An 'integration team' with 8 different workstreams consisting of local, regional and global colleagues was set up and worked together intensively for 5.5 months around the Closing Date. "It was a unique learning experience to manage this integration process almost completely virtually. We decided to establish a structured working framework with the support of an external consultant. Everyone helped each other and made it work… with a lot of video calls!" She adds: "The integration is an excellent example of the teamwork culture at De Heus that we can be proud of. The business results achieved 3 months after the acquisition and how the functional teams started working together as one team speak for themselves."
Bridging the gaps across cultures
Having lived and worked in Vietnam, Myanmar and the Netherlands with many nationalities, Emily understands how differences in languages, cultures and backgrounds can challenge smooth project development and execution. "I enjoy talking to specialists, project partners, farmers, contractors, anyone, putting myself in their shoes, learning to see things from their perspective and having open, honest conversations. This helps me bridge gaps, bring people together and guide the team forward in a transparent, constructive and result-focused manner." She approaches her work with an open mind and is always genuinely interested to learn, making sure that important messages or issues are addressed and resolved. "I try my best to be helpful and in return I have received a lot of support along the way. It is a very enabling and empowering environment."
Growing with De Heus
"Food is such an important part of Vietnamese culture that we often greet each other by asking 'Have you eaten?' I grew up seeing the glow in my mother's face every time she found a new food vendor that she felt was safe." For this reason, Emily resonates well with De Heus' mission - to contribute to the sustainable production of safe and healthy food. "I believe that De Heus is leading the way to making a positive impact on the development of the agriculture sector worldwide and making safe food more accessible and affordable, particularly in Asia. I am really inspired to develop myself, together with a knowledgeable and flexible organisation, and make a contribution to the sustainable future of food in my home country and beyond."
A career step for Emily Thuy
De Heus is evolving rapidly and if you have a plan you can make it happen! De Heus is very much engaged to support individual employees in their personal development.
After working as a successful Business Development Manager, Emily transitioned in 2021 into a new and exciting role as Strategic Marketing Manager.