Thriving employees in a global organisation
As De Heus continues to grow, so does the importance of understanding the employee experience. With the first global employee survey, colleagues all around the world were asked how they feel about their work at De Heus. Because committed, engaged and satisfied employees make the difference in achieving De Heus' ambitions. The overall response rate of the survey is 82.9 percent.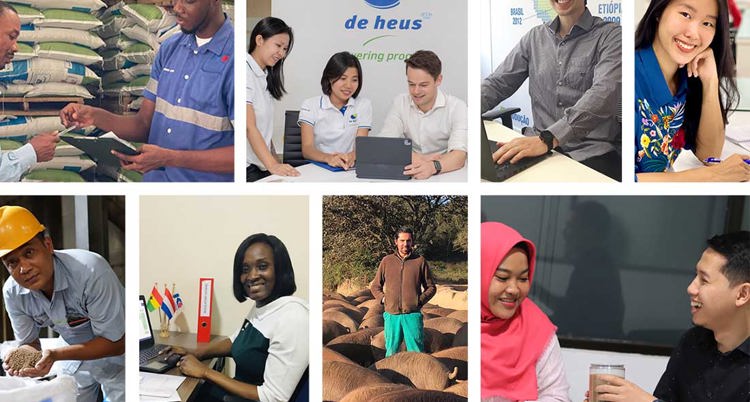 Every day, more than 8.000 professionals contribute to De Heus' ambitions of increasing access to safe, healthy and sustainably produced animal protein for a growing world population. "Our people are the driving force for powering progress. Connected by a company culture that's rooted in shared values, such as results orientation, team spirit, learning and communication," says Isolde Eleveld, Group Director Human Resources.
Giving every employee a voice
In 2021, De Heus conducted its first global employee survey, involving De Heus global head office and 18 business units/countries. "This extensive scope allowed us to identify where things are going well and indicated where there's room for improvement, down to team level in every country." All employees within De Heus were asked to fill in a questionnaire related to commitment, engagement, satisfaction, employership, customer focus, leadership & efficiency. "From factory workers, farm specialists and feed formulators to purchasers, finance managers and senior directors."
The survey was anonymous, to remove possible barriers for any feedback employees might have and included open-ended questions. Effectory, a Dutch agency specialised in employee surveys, developed the survey. "By working together with a third party, data was collected using an objective scientific measuring method and weighted against external international benchmarks."
FEED. Magazine
In this magazine, we share a selection of stories about progress and sustainability from De Heus business units all over the world. We hope that these stories will inspire you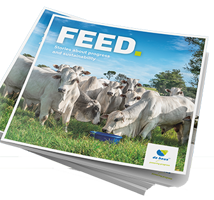 From feedback to intervention
All themes score very well at De Heus level, however, there are differences between countries and teams. "The feedback we received reflects the challenges of our growing organisation," Eleveld says.
"We notice that the culture of a country can influence the scoring within certain topics, such as leadership, management, cooperation and communication. That's very understandable and provides relevant insights on improvement areas." This global approach delivered employee feedback from all levels within the company and valuable information for global management, but even more so for the business units and teams. "This factual data shows managers opportunities for empowering their employees, in their current positions and in achieving their future ambitions within the company," says Eleveld. But also employee feedback for improving work processes, communication and leadership styles. "Valuable input for implementing relevant interventions to improve employee experiences, processes and collaboration. Which ultimately enables us to help our customers even better." By taking this feedback into account, together with cultural aspects and developments within their businesses, managers can create tailormade and practical approaches that tune into employees' personal needs. "An intervention to improve team communication or work-life balance might be needed in some teams, whereas other departments want to focus on implementing tools to improve their processes and become more efficient."
Validation of company values
In the coming months, the survey results will be shared with all De Heus business units down to team level. "The next step is for each team to create its own action plans, set priorities and implement interventions," Eleveld says. "By repeating this employee survey regularly, we can measure whether these action plans have had an effect."
WORLD-CLASS WORKPLACE!
In 2022, De Heus received Effectory's World-class Workplace label, earned by companies that score above the benchmark average for both the eNPS* and employership scores. The eENPS shows the extent to which employees recommend De Heus to others as an employer. Employership is based on company pride, organisational direction, appreciation & job pride. Isolde Eleveld: "A big acknowledgement! It makes me incredibly proud of who we are as De Heus and how we distinguish ourselves from other organisations as an attractive employer. We are a great company to work for, thanks to the contribution of every colleague in the company. Let's continue our journey together as a world-class workplace, together for better results!"
Learn more about World-class Workplace
Our Responsible Feeding approach in practise