In Indonesia, bacteria help shrimp farmers to improve their biosecurity
Over a decade ago, bacteria-related diseases started to emerge in Indonesia, causing a significant loss of production to the shrimp industry. Teguh Winarno and Kadi Mey Ismail are on a mission to help local shrimp farmers optimise their biosecurity and boost their business.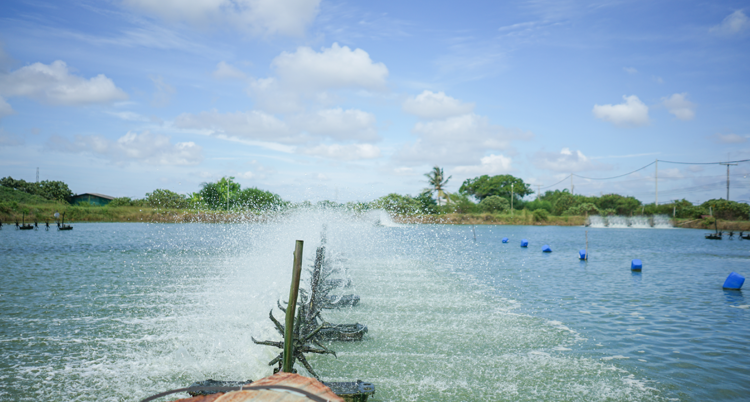 While Forrest Gump may have lovingly called shrimp Fruit of the Sea, these crustaceans are the potential cause of every Indonesian shrimp farmer's nightmare. "You could say that shrimp are complicated creatures," Kadi starts carefully. As Product Manager Aqua at De Heus Indonesia, he is in close contact with farmers and is familiar with the specific issues faced by shrimp farmers.
"With fish like tilapia and pangasius, our main focus areas for increasing productivity are quality feed and optimal water management." With shrimp, genetics and the animal's susceptibility to diseases are an extra component that can affect a farmer's business – making biosecurity a top priority. "If a farmer harvests and the quality of his shrimp is low, he won't reap any benefits," Kadi points out. "The Indonesians say about shrimp farmers: high investment, high profit, but also high risk."
With an on-the-farm approach, Kadi and his colleagues can offer their customers tailor-made technical support that helps them strengthen their capabilities and achieve their individual productivity goals. A collaboration with a local lab plays a big factor in this, because the technical sales team can analyse the water quality of their customers' pond.
It all comes down to water quality
Poor water quality can trigger the increase of viral and bacterial diseases, many of which are highly infectious and cause mortalities. Because shrimp farms are usually located in dense clusters, outbreaks in one farm can have serious implications for an entire region.
Typical feeding behaviour of shrimp has a huge impact on water quality. Because shrimp slowly nibble at their feed, any uneaten feed ends up at the bottom of the pond. Nitrogen – a core ingredient that helps achieve good growth of shrimp – reacts and becomes toxic. In addition, shrimp's excrement pollutes the water even more.
"The Indonesian say about shrimp farmers: high investment, high profit, but also high risk."
Furthermore, shrimp farmers rely heavily on sea water. "As part of their culture cycle, water is discharged from the ponds to the ocean, and fresh water is led back to the ponds inland," Kadi explains. "You can imagine that the polluted water from the pond will affect sea life." Moreover, it is highly likely that farmers pollute each other's waters due to different cycles. "The polluted water will boomerang back into the neighbouring ponds of other shrimp farmers."
Synbiotics: fighting nature with nature
When it comes to improving biosecurity in shrimp farming, Kadi and his team's number one recommendation is an additional treatment based on synbiotics – a synergy between prebiotics and probiotics. "The process of synbiotics is threefold," explains Teguh, Shrimp Specialist at De Heus and the brain behind the research in 2018 that led to a type of synbiotics appropriate to the Indonesian shrimp market. "Firstly, the existing bacteria in the water feed off the rice bran. As a result, bacteria will start to reproduce. Next, the enzymes breakdown the protein in the water, making it easier for the shrimp to digest. Finally, bacteria eat the organic material that otherwise sinks to the bottom of the pond. What's left is an environmentally friendly organic sludge that's safe to recirculate back to the ocean. Synbiotics can replace the use of chemicals, which is a great step in taking better care of the environment."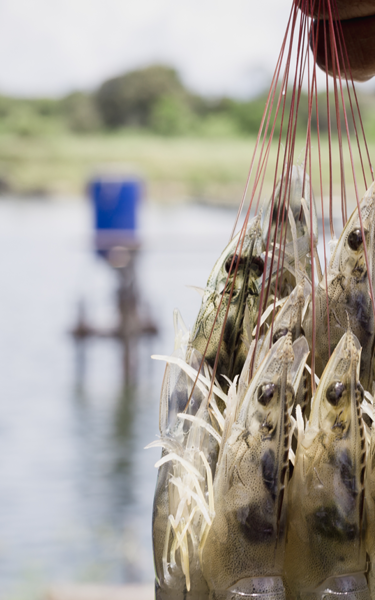 Farmers who use synbiotics see a big overall improvement in their farm's performance. "Results are significant. Infection rates can fall by 70 percent, and as the overall quality of shrimp improves, pond profits can increase by 20 percent," says Teguh.
However, it isn't a standard procedure that every farmer can adopt right away. Some do not have access to the specific rice bran required for the synbiotics process, others are unable to make the necessary investments. Teguh: "We plan to provide the synbiotics from our own production facility so that we can accommodate our customers better."
Finding profitability in sustainability
It's through intensive collaboration that the team develops a close relationship with farmers throughout Indonesia and is able to support them in optimising biosecurity and boosting their business with resources that are locally available. Teguh: "What's important to us is that we support our customers in finding profitability in sustainability – through feed, but also with knowledge. It feels more like a long-term partnership, which is exactly how we can help them achieve their targets and grow their business." Ultimately, it should be a win-win situation.
"And it can be!" Kadi adds excitedly. "Better water quality equals better product quality. And that means higher profits – not just for our customers, but throughout the shrimp value chain in Indonesia."
Vannamei Shrimp
With a surface that consists of 60 to 70 percent water, a tropical climate that allows for warm waters all year round and a coastal line that seems infinite, Indonesia offers an ideal environment for the cultivation of the monodon – also known as the vannamei shrimp. De Heus works with farmers mainly located on Java island, south and central Sulawesi island, south and west Kalimantan, and Bali. When you look on Google maps, you will see some of these coastal lines dotted with shrimp farms.
FEED. Magazine
In this magazine, we share a selection of stories about progress and sustainability from De Heus business units all over the world. We hope that these stories will inspire you
Our Responsible Feeding approach in practise