How one modern slaughterhouse raises the bar for Myanmar's poultry sector
Throughout Asia, the demand for sustainable and safe poultry products is growing rapidly. In the face of increased competition and movements towards chain integration, a volatile market and changing sales channels, many independent poultry farmers in Myanmar are struggling to tap into this potential. Together with key players in the poultry sector, De Heus Myanmar developed the first modern slaughterhouse in the country, providing independent farmers a better price for their products and access to a premium market.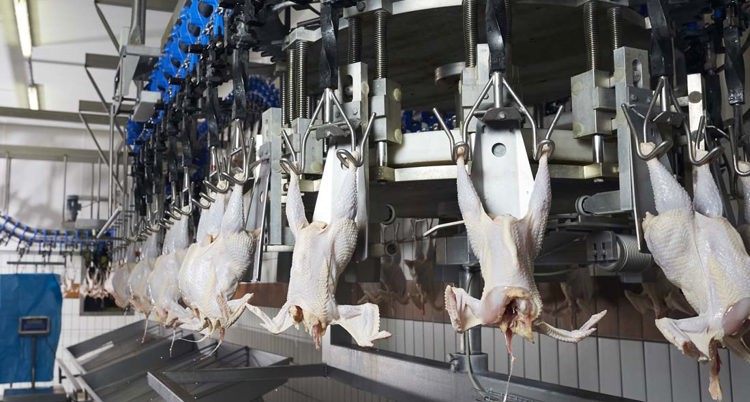 In recent years, Myanmar has seen an increase in the demand for sustainable, locally produced and safe poultry products. With the rise of more modern retail, quick serving restaurants and international hotel chains (amongst other reasons), the domestic poultry market is expected to grow at an annual rate of 10-15% in the next five years. "The impact of animal diseases and the Covid-19 pandemic has further increased societal and governmental awareness for food safety and biosecurity during production processes and access to safe, healthy and affordable food for the general population," says Arno Willemink, managing director at De Heus Myanmar. "National governments throughout Asia are speeding up phasing out slaughtering practices on wet markets, while consumers are increasingly buying more premium products. For the professional poultry sector, this creates enormous potential with respect to capacity expansion of production, slaughtering and (further) processing activities."
Independent poultry farmers are unable to seize opportunities. "Because farmers cannot make the investments needed to upgrade broiler farm conditions and their production capacities, they're unable to sell to slaughterhouses with access to the premium market – and premium prices . They then have no choice but to sell their poultry products to wet markets for lower prices," explains Willemink. At the same time, competitors are expanding their businesses. "As a result, more and more small-scale farms are disappearing, and medium sized farms are under serious threat of being pushed out of the market by international integrators."
Weakest link in the chain
For several years, De Heus Myanmar has been working towards a more competitive and responsible poultry sector in Myanmar, as part of a consortium with leading companies and knowledge institutes from the Netherlands. In 2018, a local slaughterhouse approached the consortium, with plans to build a new and more modern slaughterhouse.
At the time, Myanmar only had a handful of small slaughterhouses with limited capacities, and so, up to 90 percent of all locally produced poultry was slaughtered on wet markets. The development of modern slaughtering capacity had therefore been earmarked as a key priority to solidify the sector's professionalisation, as it was one of the weakest links in the chain. "From our own feed factory and hatchery to our farmers' businesses, almost every part of the poultry chain was levelling up in terms of production standards, biosecurity and food safety. There were no high quality slaughtering facilities, so all those efforts risked going to waste."
The consortium raised a subsidy from the Dutch government and helped with the construction and design of the slaughterhouse facilities. A few months before the new slaughterhouse was due to start operations, the owner came to Willemink with an unexpected question. "He only wanted to handle the slaughtering, not the selling. So, he asked me if we could take on that part." As his core business was selling feed and not poultry, Willemink had to think about it, before he started working on a new business case for De Heus – renting a slaughterhouse and taking up the selling of poultry.
Fixed prices in a volatile market
In late April 2020, their collective plan came to fruition. On the premises of local partner Wai Yan Aung, Myanmar's first modern slaughterhouse – and the fourth poultry slaughterhouse in the nation – opened its doors. The facilities are designed to meet the highest international standards in terms of hygiene, food safety, working conditions and animal welfare, which means its poultry meat meets the requirements for the premium market – a crucial factor in De Heus Myanmar's ambitions to create value at both ends of the national poultry chain.
On the farmers' side, it's all about helping them professionalise their production processes and improve their livelihood. An important catalyst for doing so are stable prices. "Poultry farmers deal with a volatile market, a roadblock for professionalisation. To take away that uncertainty, we offer them a fixed price," explains Willemink. "We hope this increases their confidence to compete in the market and gives them an incentive to become our suppliers and produce their poultry in a more sustainable way." Increasing numbers of independent poultry farmers are switching to more modern facilities, like closed housing with European equipment, Willemink points out. "Feed usage is falling by roughly 10 percent and mortality rates are decreasing by 30 to 50 percent. The benefits are substantial."
Nevertheless, many farmers who want to make the necessary changes lack the resources to make the initial investments, because they are often unable to get bank loans. "In order to get things running, we are actively trying to convince banks that it's really worth the investment. More financial resources enable farmers to make the necessary long-term investments in optimising biosecurity and food efficiency on their farms," explains Willemink. "It will take a few years, but the investments will be recouped in a better feed conversion ratio, better quality chickens, better animal welfare and an overall better performance – offering farmers a better income and livelihood."
Bridging the gap between farmers and the market
At the other end of the chain, meeting consumer and stakeholder needs is equally as important. In the last five years, chicken consumption in Myanmar has increased by 15 percent per year. "Especially here in Yangon, consumption patterns are changing. On an average Friday afternoon or during lunch hours in our office, we see lots of people eating fried chicken. Business in poultry is booming." Among Myanmar consumers, Willemink hopes the slaughterhouse will help increase their trust in locally produced poultry meat. "The slaughterhouse can serve as a bridge between the independent poultry farmers and modern retail, fast food restaurants and international hotel chains."
With increasing societal awareness about biosecurity and food safety, the Yangon city committee is looking out for new investments in modern slaughtering and higher quality poultry products. "They recognise the importance of the work that we're doing. We're not a big investment company out to compete with local farmers. We're trying to help them and the national poultry chain improve the quality of their businesses, processes and products."
Our Responsible Feeding approach in practise