De Heus helped us adapt rations more efficiently and improve the farm's profitability
David Bengoa, Julián Morote, and Roberto Uriarte are the three men who make up the Sociedad Agraria de Transformación (SAT) Etxalde, located in the municipality of Elosu (Álava). Every day, their 220 dairy cows produce 8,000 litres of milk which they sell through the Kaiku cooperative. De Heus supports them in everything related to rearing, animal welfare, etc., providing services and advising them on all the processes. Together, they have perfected the way they work with the animals on the farm, managing to adapt rations more efficiently and improve their profitability.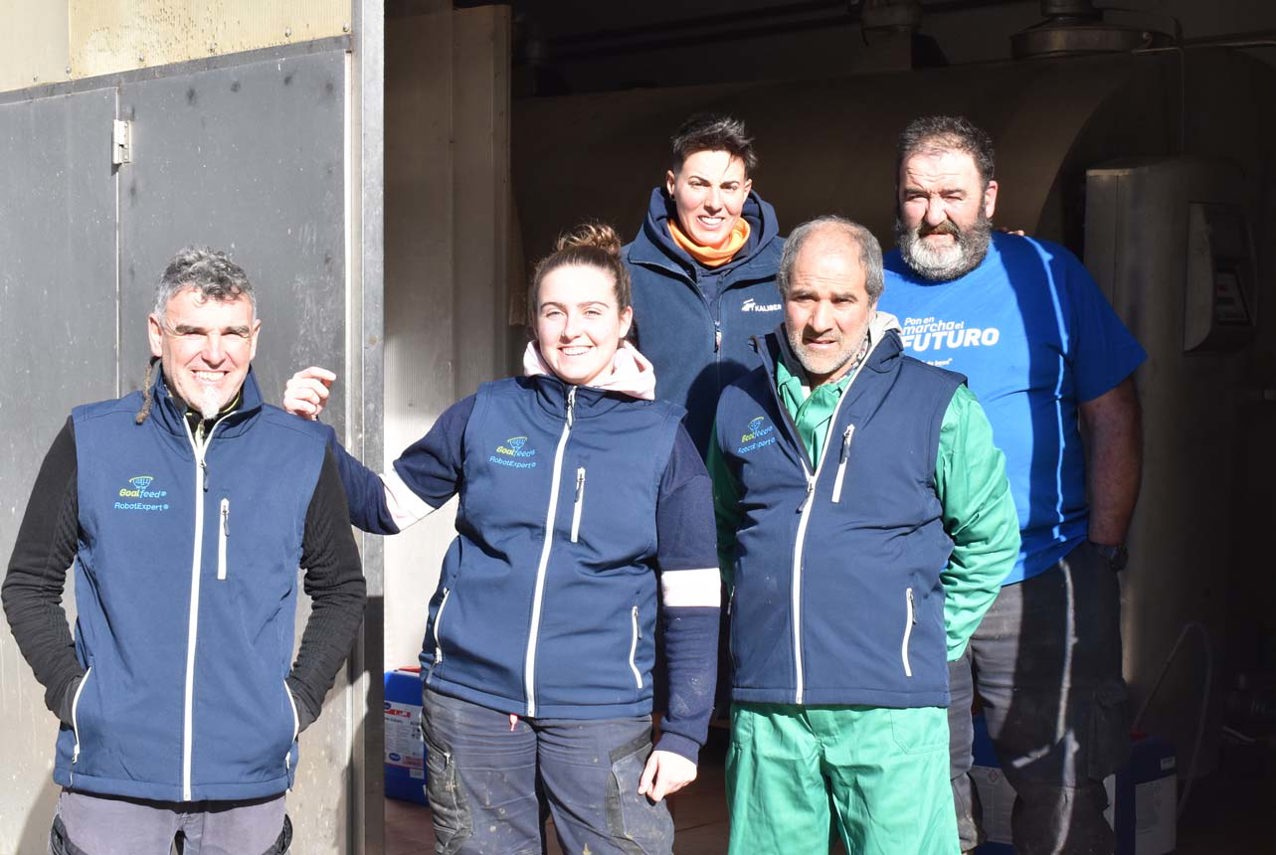 Aware of sustainability
David, Julián, and Roberto joined SAT Etxalde, which was founded in December 1980. They have taken over SAT Etxalde from the previous partners between 2004 and 2007. They currently have three employees: Adriana Virto, Nagore Arratibel, and Joseba Viteri.
Besides the 8,000 litres of milk, they produce every day and sell through the Kaiku cooperative. The farm has 220 dairy cows, although when you add the heifers in rearing, this number grows to 380 animals.
They also manage 160 hectares on which they produce ryegrass, maize, and alfalfa for their supply. "Producing our high-quality fodder is the basis of the farm's strategy," they say.
They call themselves 'sustainability conscious'. This is reflected in their work on projects for photovoltaic installations for self-consumption and the air-conditioning of the animals' housing to make them more comfortable.
De Heus as a synonym for greater feed efficiency
This farm has been a customer of De Heus for more than a decade. The relationship started with Núter Feed and is still going strong today. The secret? "The search for better feed efficiency. We understand the farm in a way where trust and the relationship with our advisors are key in decision-making. And regular monitoring of efficiency data gives us confidence and credibility," according to the three partners.
De Heus supports the SAT Etxalde farm in numerous processes. "The production of quality food is the basis of our management. Which is why we always prioritise quality over quantity. We are extremely careful about variety selection, stock planning, silage, conservation, and food supply. Resource efficiency, the search for profitability, and the reduction of emissions are our key objectives. All this information enables us to develop and research new products together with the De Heus team. We learn together," they point out.
Furthermore, the training of its employees, their involvement, and commitment are a fundamental part of the farm's success.
De Heus solutions for David, Julián, and Roberto
Specifically, at SAT Etxalde they use Margin Monitor Milking, the De Heus tool which enables simple and practical monitoring of the farm's evolution to indicate the herd's efficiency. "We collect monthly data on the evolution of our production costs, the price of milk and the impact on the margin. We are very demanding in our dry matter intake controls, because of the effect this has on production costs. Our data on feed losses due to spoilage or leftovers is very low."
In addition, they use the Kaliber rearing programme, which they rate very positively. "We have a feed record of all calves born on the farm, including their birth and weaning weight, and we monitor their development. One of the pillars of the farm's growth in production is the importance we give to our rearing system. We have an average first calf heifer production of 11,700 kg, calf mortality is below 2% and we discard virtually no heifers in the first lactation."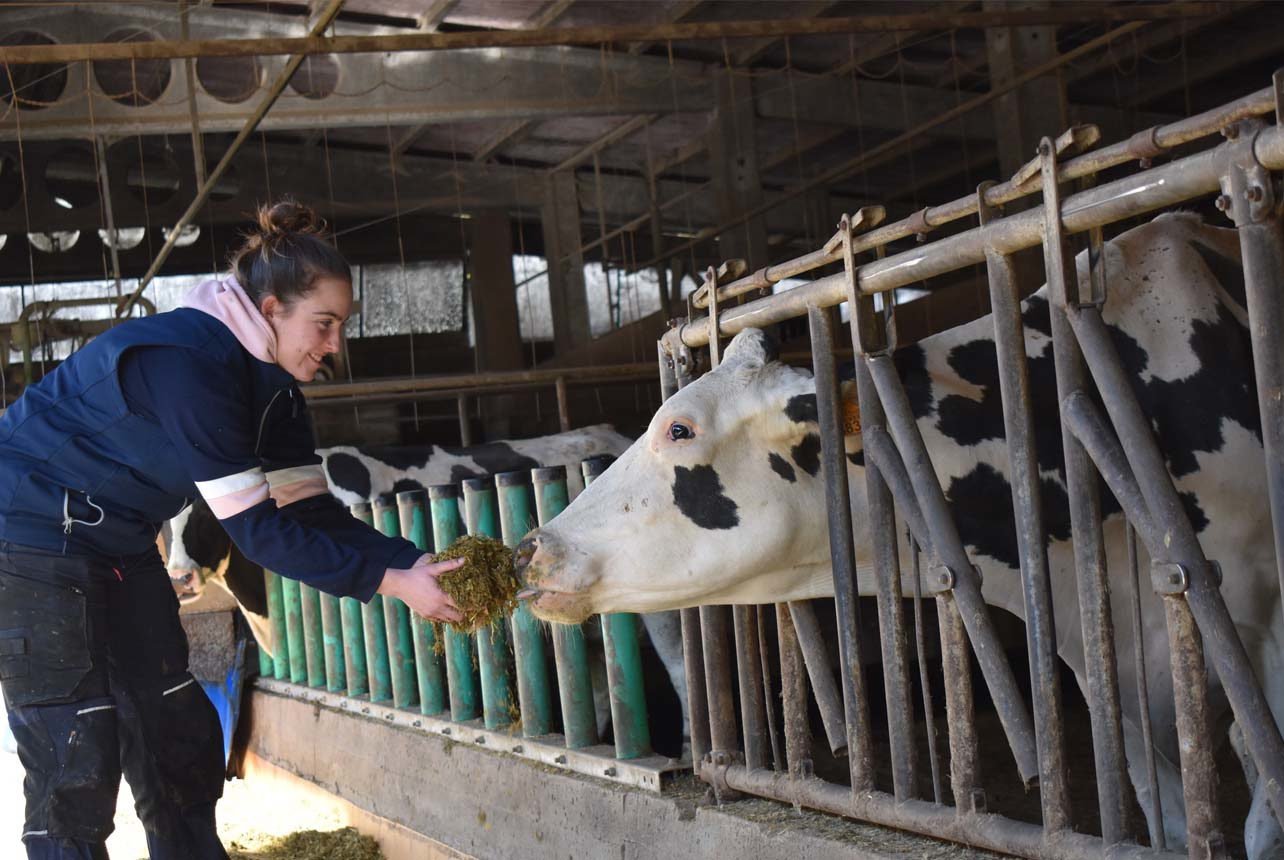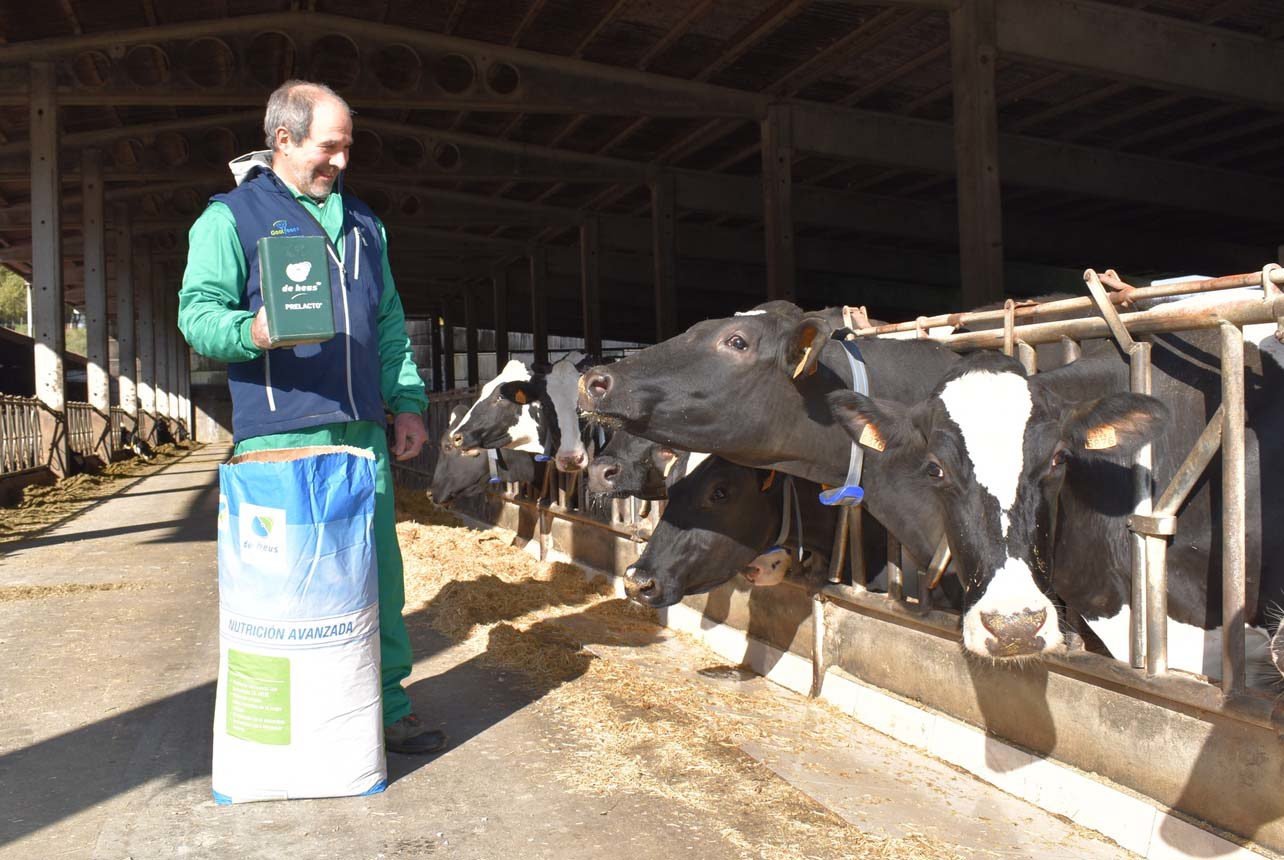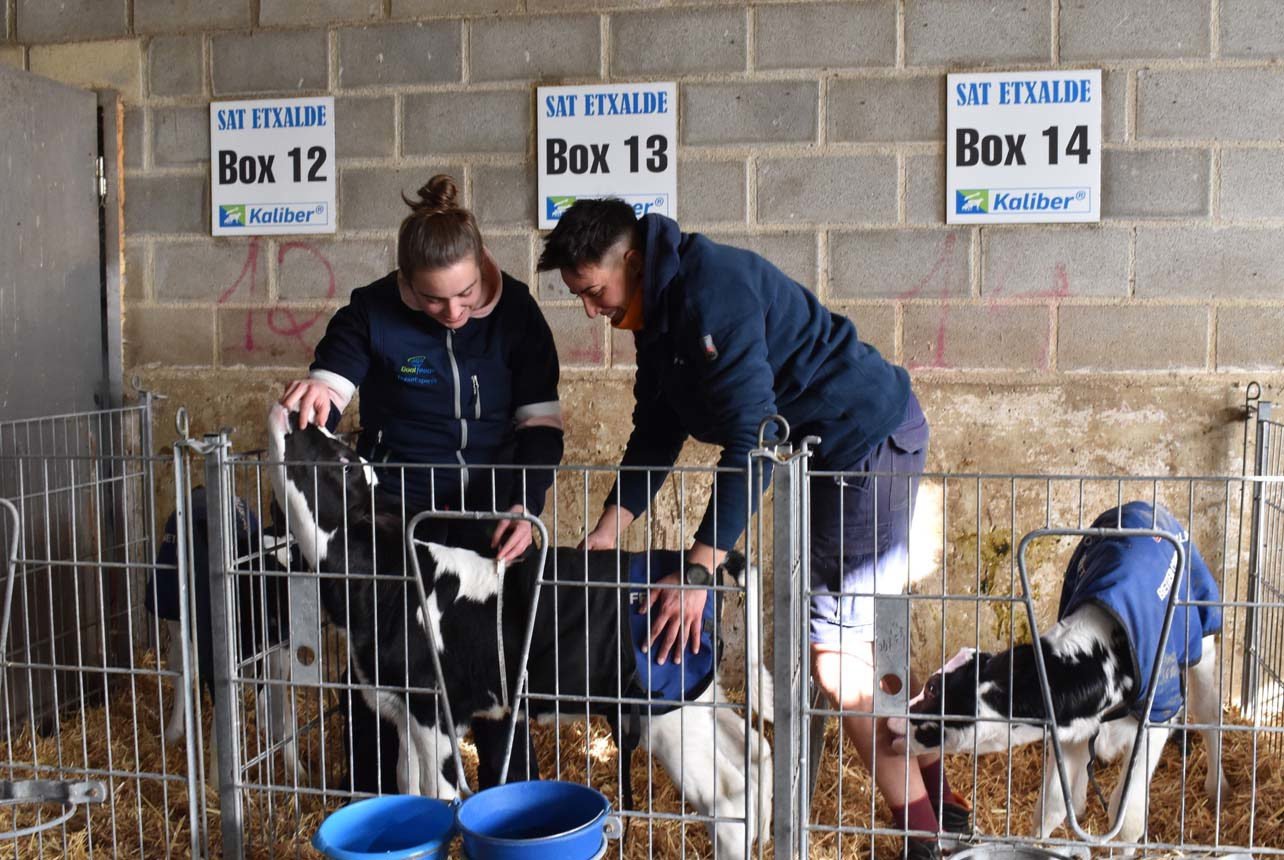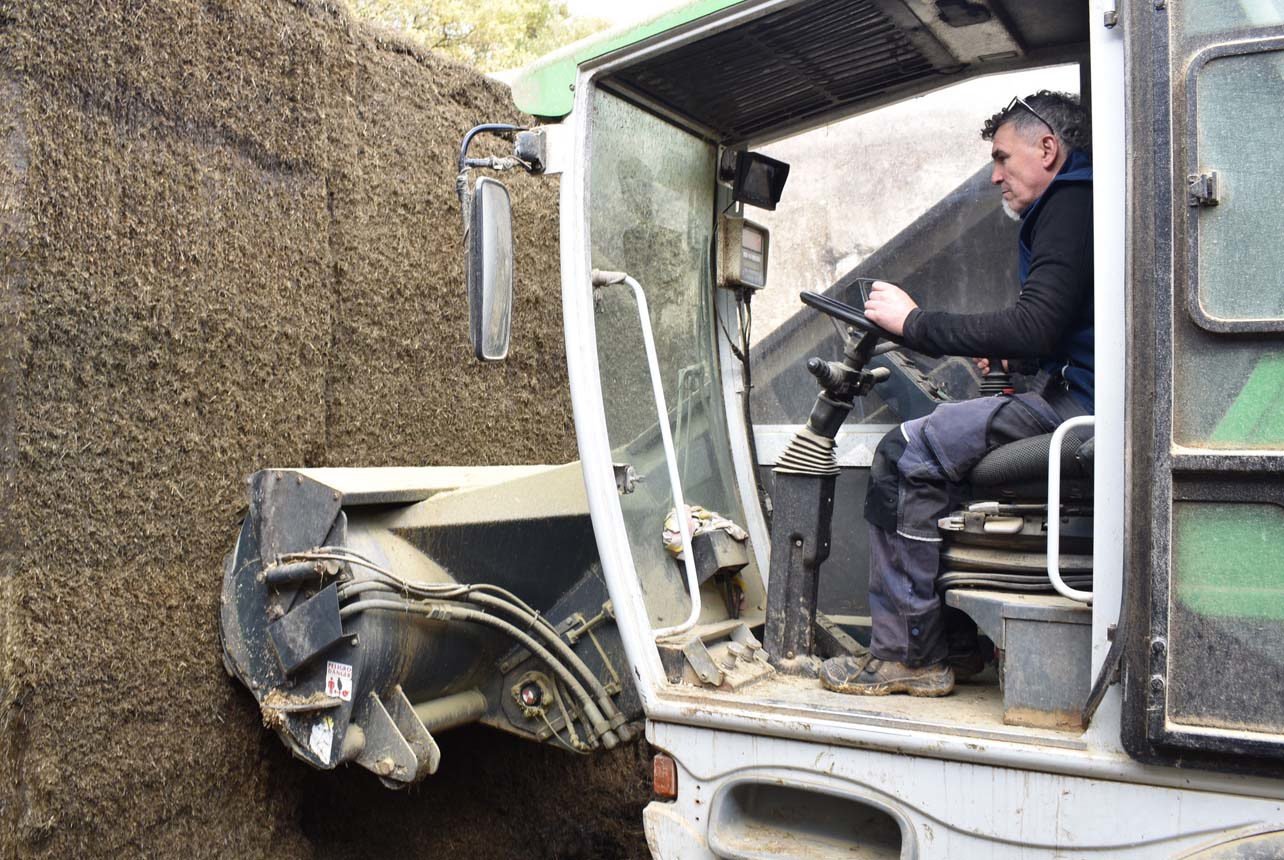 They go on to explain: "The first 60 days of life are key. Adriana records intake and quality of colostrum, as well as birth and weaning weights, which gives us very good developmental data. We also make investments to improve the comfort and ventilation of the calves. We look for the right development to have calvings between 22 and 23 months of age and with Kaliber we achieve this quite easily."
SAT Etxalde also works with the nutritional basis of the Prelacto Plan for the dry period. "We have very few metabolic problems and production at peak milk is very good."
"As farmers, we pay a lot of attention to the welfare of our animals. During the summer, we are very concerned about heat stress," they add. "We have invested in improved air conditioning by installing fans throughout the farm and we also adapted the summer nutrition strategy with Coolcare. Their app helps us reduce heat stress in the herd. We increased intake by up to 1 kg of dry matter on days with high temperatures or high humidity (THI). This is the best sign that the cows are doing well. All this, and more, under the supervision of Salva and Ramiro, our trusted De Heus advisors."
"Necessary partners in our achievements"
De Heus' influence can be felt in some of the day-to-day processes at SAT Etxalde. "Mainly in how we work with the animals, the management in groups and batches of uniform age or lactation. This has helped us adapt rations more efficiently and improve profitability." They also see data monitoring as key.
The De Heus team works "side by side" with them on the farm. "They feel ownership of the problems and we see them as necessary partners in our achievements. This is the real key to such a long-lasting relationship."
Farmers around the world share their success