We saw a significant increase in the margin of milk
In the North of Portugal, 110 healthy cows are being held by Filipe Vendeiro. He works with two milking robot systems and knows how to achieve maximum efficiency. He uses the RobotExpert system of De Heus and measured the IOFC (Income over Feed Cost) with the Margin Monitor Milk tool of De Heus. Filipe is very pleased with the results.
De Heus helped me to improve the profitability of my dairy farm Filipe Vendeiro shares his birth year with the start of the dairy farm that he now owns, because it was in 1987 that Filipe's father created the Sociedade Agropecuária Estrela do Alto Minho. Located in the north of Portugal, in Fonte Boa, Esposende, this farm has around 110 cows in production.
An attention to detail that pays off
The "Dairy Farmers Day" event was hosted by De Heus in December 2019. Attended by more than 300 customers, Filipe's Estrela do Alto Minho farm was the big winner. Awarded with a 1st place for best IOFC (Income over Feed Cost), measured with De Heus' Margin Monitor Milk tool. But that was not all: he also got 3rd place for Best Herb Silage. Reflecting the importance that Filipe places on the quality of each ingredient, that makes up the nutrition he gives his cows. And which helps explain the outstanding profitability of his farm.


An eye for the cow's wellbeing
One thing that stands out when you visit Estrela do Alto Minho farm is the great view of the surrounding fields from the cow stables. But also the results of an extensive renovation which it underwent in 2020. Which greatly improved animal welfare and working conditions. And which culminated in the installation of a robotic milking system with two pieces of equipment in April 2021.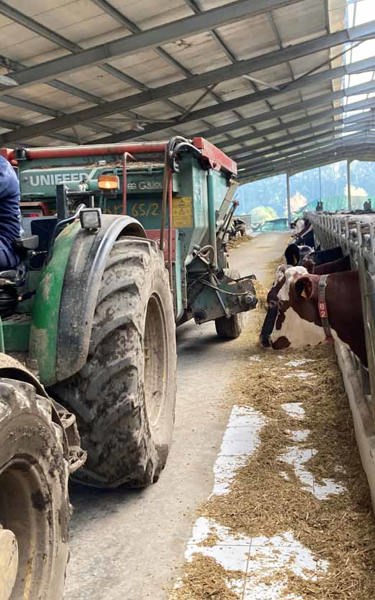 Major profitability improvement
And how did it turn out? Let's hear it from Filipe himself: ''I started working with De Heus four years ago. I very quickly saw a huge improvement in the farm's profitability, with a significant increase in the margin of milk. I therefore have a relationship of trust with De Heus. So it was only natural that I continued to work with them when I installed the milking robots in 2021. They have specific knowledge and tools for milking robots, both in terms of nutrition and in the configuration of the robot itself. I am very pleased with the results.'
Farmers around the world share their success