Rearing calves when the seasons get difficult
Calf rearing deserves extra attention in zones that are known for warm summers and cold, humid winters. Calves are particularly sensitive to various diseases when it gets cold, including gastrointestinal disorders, lung disorders, runny noses, coughing and the flu.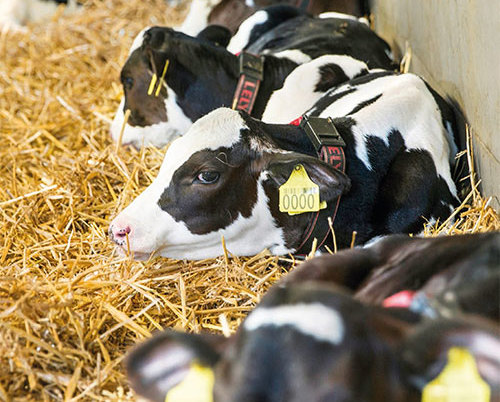 Humidity and draughts are huge risks during these months. Viruses and bacteria thrive in humid environments, making calves vulnerable to infection. Meanwhile, draughts contain colder air that quickly drops and ends up on top of the calves. This can cause rapidly growing calves to easily catch a cold and develop flu-like symptoms.
High-quality colostrum is vital
The most important thing you can do to ensure calves experience fewer problems is provide high-quality colostrum. During a proper dry period, cows create high-quality colostrum, with plenty of antibodies, that protects the calf. At De Heus, we work with a range of dairy feeds that enable a dry cow to produce enough colostrum of high quality.
Another way to increase resistance is to vaccinate dry cows against various viruses, such as rota and coronaviruses. This is a particularly effective way to protect calves against pathogens because they receive the antibodies via the vaccinated cow's colostrum.
The basis for healthy animals
If you want to keep your calves as safe as possible against costly infections, there are three other factors to consider. The first of these is hygiene since fewer pathogens grow in a clean, tidy and dry environment. Pay special attention to equipment such as milk feeding tools and housing pens, and refresh the animals' feed and water every day.
The second element is ventilation. This refers to exhausting old air and replacing it with fresh, clean air. Ask yourself whether your stable can provide clean air and ventilate the old supply. It also pays to be aware of whether there's a micro-climate or a draught risk. Take the opportunity to review these with one of our cattle specialists.
Finally, be aware of the feed supply. Are your animals being fed the right way? Is the proportion of artificial milk up to par? Do your calves have enough fresh water, feed concentrates and roughage available?
Many problems, including diarrhoea, are caused by the preparation and feeding of milk. Carefully check the schedule to see which calves need to be fed and make sure the temperature and quantities are correct. During the winter months, or when the temperature gets below 10°C, increase the concentration to at least 150g per litre of milk or 175g per litre of water in a drinking dispenser.
Discover more about our Kaliber Calf Rearing Plan and contact an advisor of the De Heus team for more information.
Get in touch with one of our experts