Our people
Rafał Blachowski - senior distribution specialist
Choosing to work at De Heus was not accidental. In 2009, Rafał graduated in commodity science from the Faculty of Animal Bioengineering at the University of Warmia and Mazury in Olsztyn. His first job was working as a sales representative. In 2014, whilst browsing through job advertisements, he came across a vacancy for a distribution specialist at De Heus. Having graduated in agricultural studies, he was familiar with animal nutrition. Furthermore, he had already heard a lot of good things about De Heus. Many of his college colleagues worked at De Heus and praised the conditions and opportunities there. Rafał applied without hesitation and was invited to an interview at the company's headquarters. In 2015, he officially joined the De Heus team.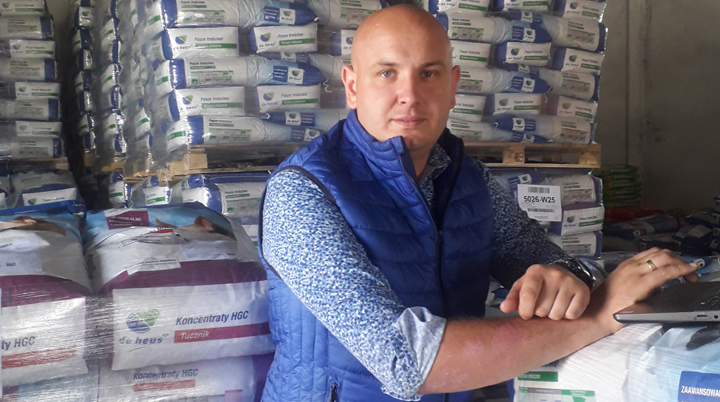 Difficult start
The beginning was not easy and required a lot of commitment from him. Rafał: "Sometimes it was difficult, but after a few months I really began to feel at home doing this sort of work. I could always rely on colleagues from other regions, as well as on support from the management staff. I made a few mistakes, but I received plenty of instruction on how to fulfil my duties properly. I always have time to learn new skills and develop so that I can take on new tasks. In all this, I am supported by my supervisors who I feel trust in my work."
A day in the working life of Rafał
A normal day consists of meetings with distributors operating in his region. During these meetings, they determine the needs for a given type of product and a strategy for joint development. "I am responsible for managing distribution processes, current sales, possible complaints and payments. I often share my ideas with other colleagues from the distribution department. Together, we get ideas for the best ways to work with distributors and show them how to increase sales. I visit clients periodically and also stay in touch with them by phone and e-mail," says Rafał.
Two-time promotion
De Heus is known for focusing on employee development. "Which is important to me because I really enjoy broadening my knowledge and acquiring new competences. Working at De Heus is a lot of fun. I never thought that there would be so many changes in 5 years of my professional life. The most important have been my two promotions and the opportunity to study for a postgraduate MBA as a part of the company's Young De Heus project. In addition, De Heus offers us the opportunity to participate in many courses and training courses, so that I can deepen my knowledge and skills in other areas than sales. I am also able to implement ideas. In the last year, I managed to persuade the company to produce fattening feed for snails, which I successfully introduced on the market. I believe that I made a very good decision in choosing De Heus as my employer. I can recommend working in this company to anyone wanting to develop and look for challenges at the same time," concludes Rafał.
Join our team!
We offer as many career opportunities as different destinations to work in. For a possible match in your workfield check our vacancies.